Nha Trang city is as beautiful as a masterpiece of nature and people with many famous tourist attractions in Nha Trang. The diverse natural landscape has made the irresistible attraction of tourism activities here, along with the rich cuisine and friendly people – Nha Trang seems to have captured the hearts of tourists from all over the world. Now, let's explore these interesting places with Vntrip right now!
Vinpearl Land
Address: 98B/13, Tran Phu, Loc Tho, Nha Trang City, Khanh Hoa
Located on the beautiful Hon Tre island between the sea and the clear blue beach all year round, Vinpearl Land is known as a tourist destination in Nha Trang – a "tropical paradise" that attracts all visitors.
Vinpearl Nha Trang – a masterpiece of nature
In addition to amusement parks for families and children, Vinpearl Land also has Vinpearl Water Park. With slides with the largest slope of 21.5m, this entertainment area often caters to visitors who love thrills. In particular, a 56m long section of Rung Rung Cave will also satisfy the passion of adventure of many young tourists. Moreover, this place also attracts visitors by the majestic 4D cinema.
Discover the amazing aquarium paradise at Vinpearl
Vinpearl Zoo Park
Besides the usual means of transportation such as canoes, taxis, speedboats and ferries, visitors can also go to Hon Tre island by a 3,320m-long cable car system. This is the longest cable car in the world with 9 pillars on sea and land. The cable route has a structure like the Eiffel Tower, especially at night, it will be lit with lasers. This cable system can carry 1000 – 1,500 people/hour. Thanks to that, it is easier to travel between the island and the mainland.
Very interesting games
Don't forget to take beautiful pictures!
Aquarium Institute
Address: 1, Cau Da, Tran Phu, Nha Trang city, Khanh Hoa province.
Nha Trang Institute of Oceanography is a place to study the life of marine plants and animals in Nha Trang city, Khanh Hoa province. This institute was established in 1923 and has an address at 1 Cau Da, far from the center of Nha Trang city. Trang about 6km to the Southeast.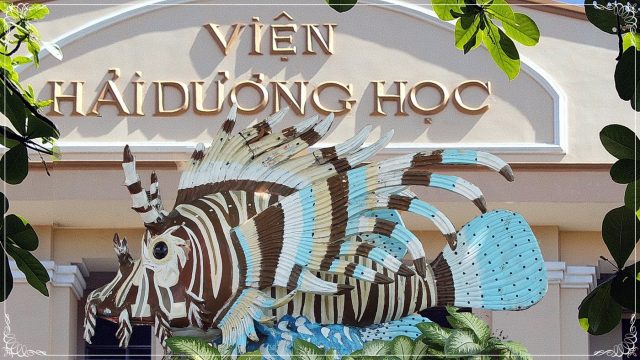 Nha Trang Oceanographic Institute is an interesting destination. Photo: ST
This tourist destination has more than 20,000 specimens of 4,000 types of sea creatures that have been kept, collected and nurtured for many years. In particular, this is also a place to display a giant whale skeleton nearly 26m long, 3m high with 48 vertebrae that has been restored very fully. Visitors here will be able to visit the laboratory, see strange creatures and learn more about the life of marine species.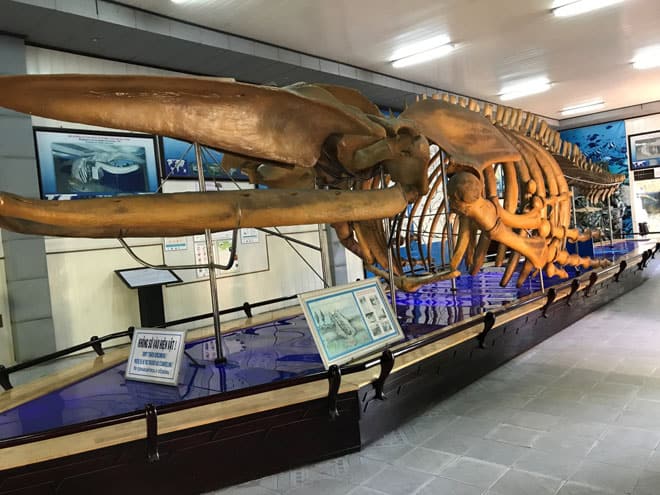 The giant whale skeleton is on display at the Institute of Oceanography
Vinpearl Land, Bao Dai palace, Ninh Van bay and Institute of Oceanography are 4 of the famous tourist attractions in Nha Trang . Coming here, you will admire the beautiful scenery, new things and gain yourself a lot of useful knowledge.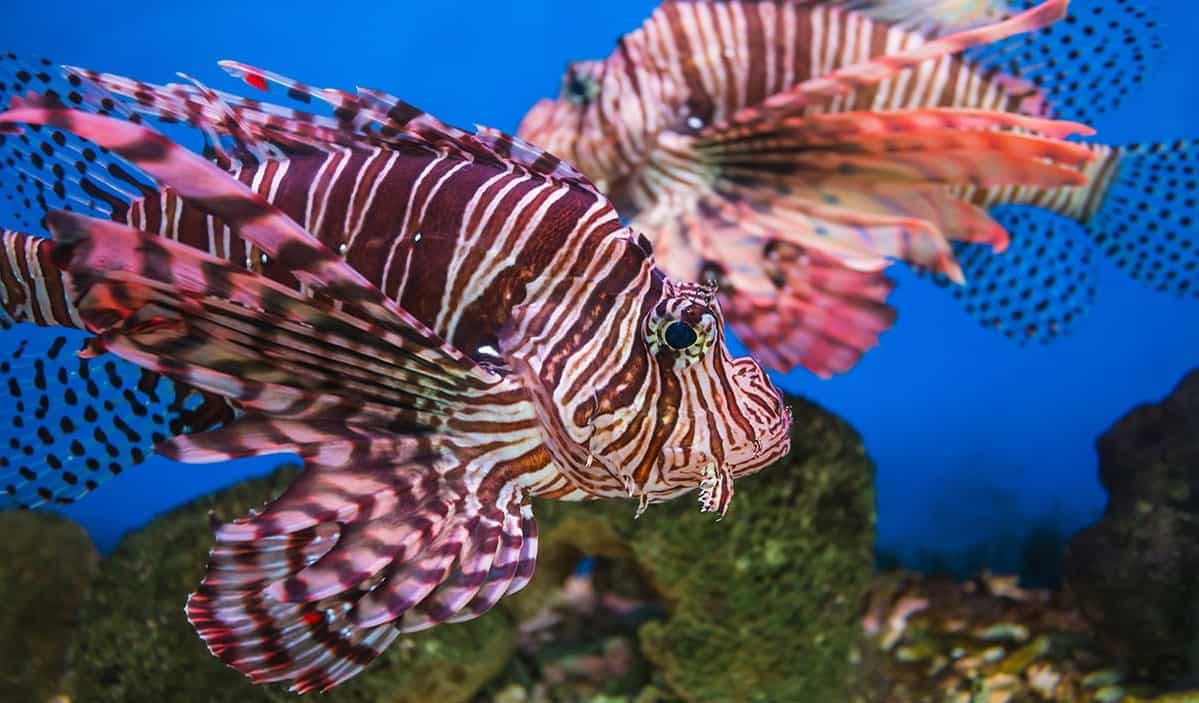 Directly see the fancy fish that can only be found at the marine institute
Hon Mun Island
Address: End of Tran Phu street, Nha Trang city.
This is an island known as the most romantic island in Nha Trang. The island conquers any tourist's heart when coming here by its endless stretch of white sand, green beach with wild bird's nests climbing on the cliffs.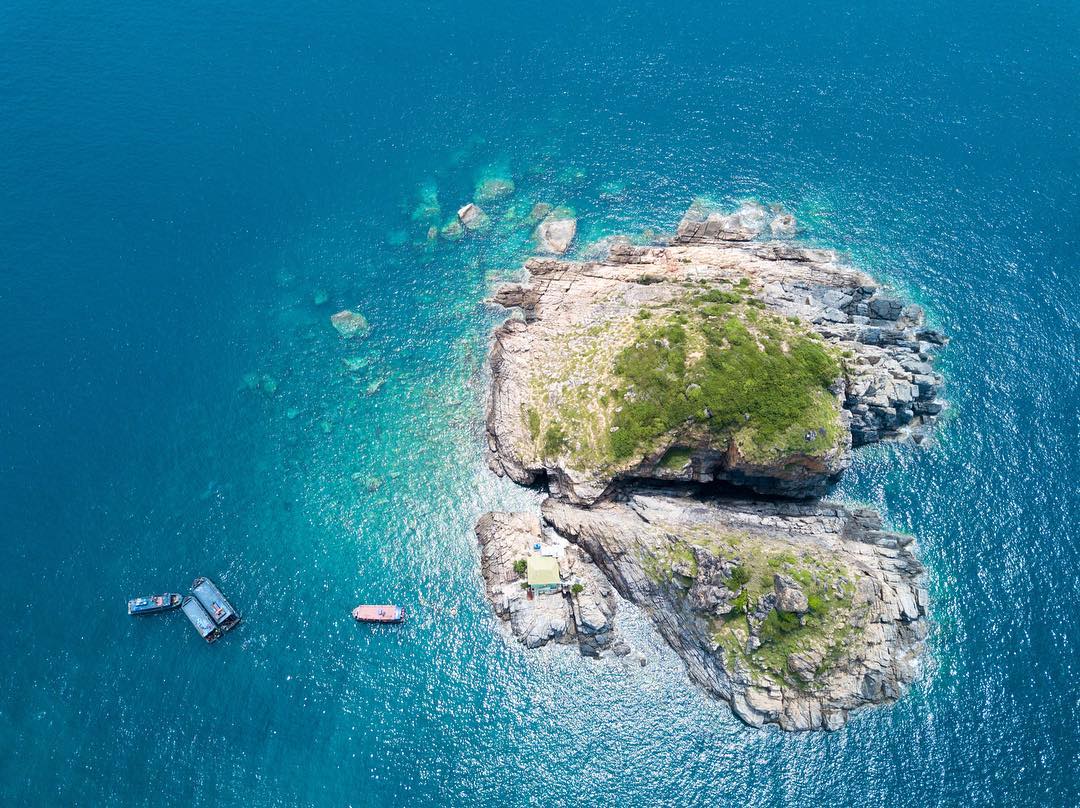 Hon Mun Island viewed from above is extremely beautiful. Photo: ST
Coming to Hon Mun island is coming to the clear blue water, the rich and colorful coral reefs. With such an abundance of ecosystems, Hon Mun Island has been assessed by the World Wildlife Fund as the most diverse area of ​​marine life in Vietnam.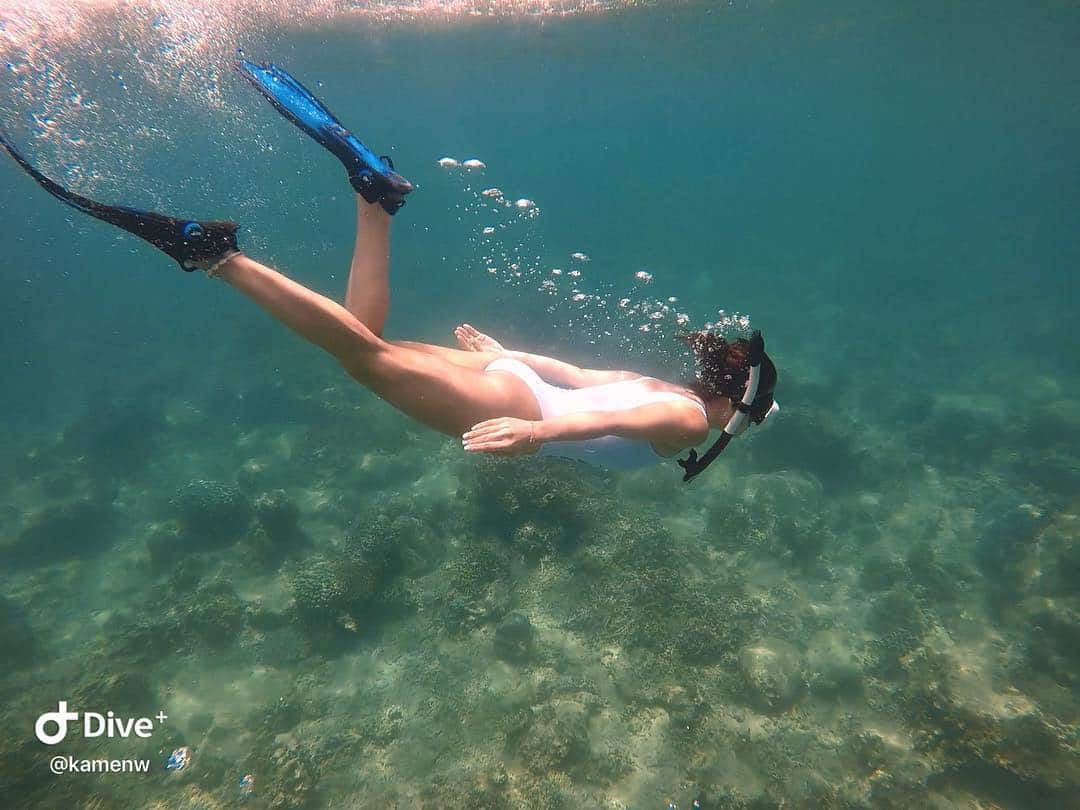 Scuba diving is an extremely interesting activity that should not be missed here. Photo: @kamenxxo
The sea water here is extremely clear and cool. Photo: ST
Coming to Hon Mun island is coming to many interesting services on the sea such as: Bar floating on the sea, scuba diving to see coral or exploring Hon Mun by glass bottom boat.
Hon Tam Island
Address: Vinh Nguyen, Nha Trang City, Khanh Hoa
Hon Tam Island is located 7 km from Nha Trang city, is a tourist attraction in Nha Trang , a certain experience you must visit when coming to the city. Hon Tam Island is dreamy with coconut trees running along the green beach.
The island of Tam is poetic and peaceful. Photo: ST
Visitors can lie on a chair, listen to the sound of sea waves mixed with the sound of coconut leaves rustling together, experience extremely interesting sea games such as skydiving, jet skiing, surfing. planks,…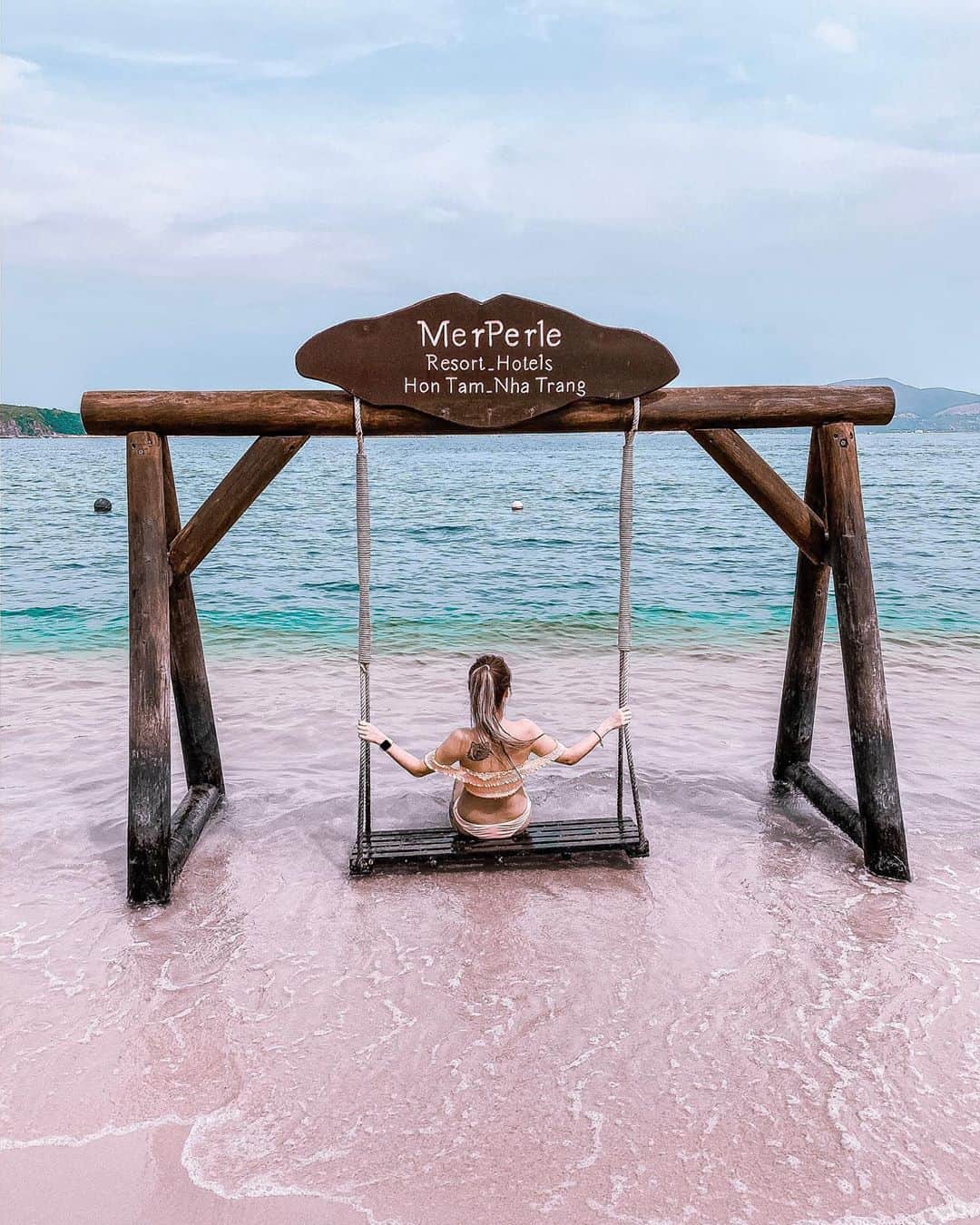 The million-view swing is located in the middle of the sea of ​​Hon Tam. Photo: @_maidiana
The cuisine in Hon Tam is also a tourist attraction here with delicious and attractively processed fresh seafood. For tourists who want to experience the craft village culture here, they can visit the textile workshops, make handicrafts, or enjoy the sound of dan Trang, which is a cultural and spiritual beauty that is still preserved. how long ago.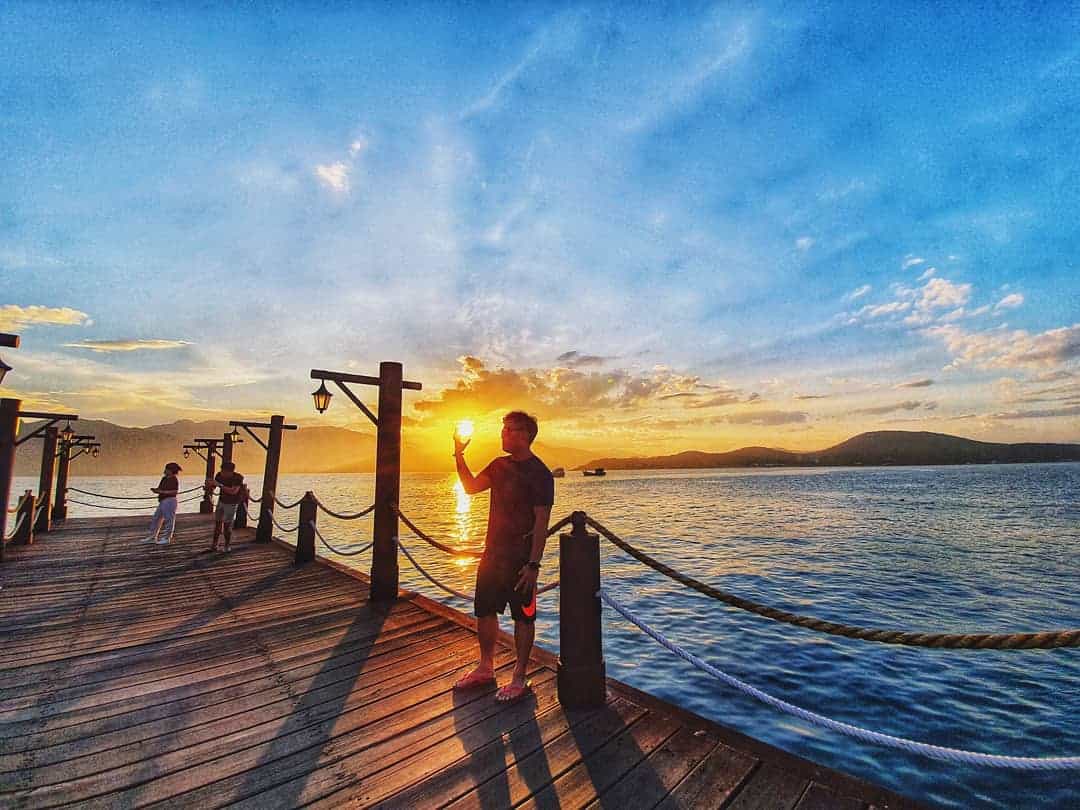 The wooden bridge north to the sea is the ideal sunset spot on Tam island. Photo: @genesis.le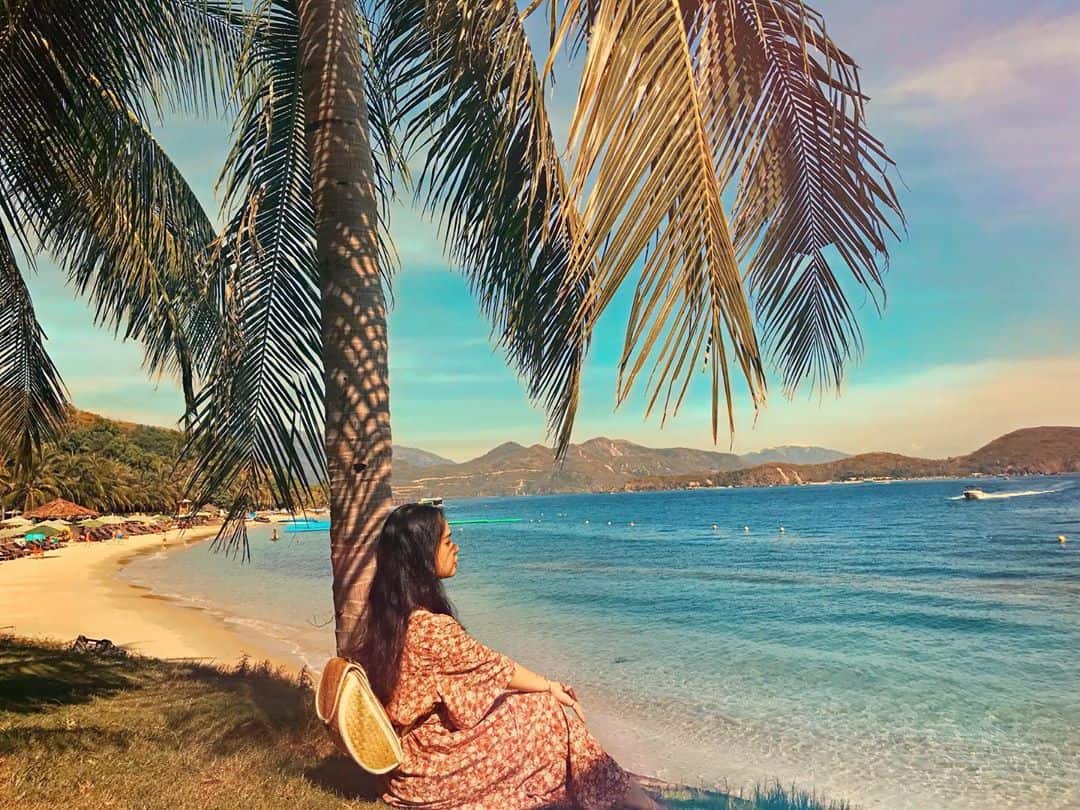 The tall coconut trees provide shade for you to enjoy watching the dreamy blue sea. Photo: @nguyenhuong1795
Ponagar tower
Address: Hai Thang Tu Street, Vinh Phuoc, Nha Trang City, Khanh Hoa
Nha Trang is not only attractive with its beautiful beaches, but also impressed by its unique and beautiful architecture. Ponagar Tower is one of the largest Champa cultural architectural complexes in Central Vietnam.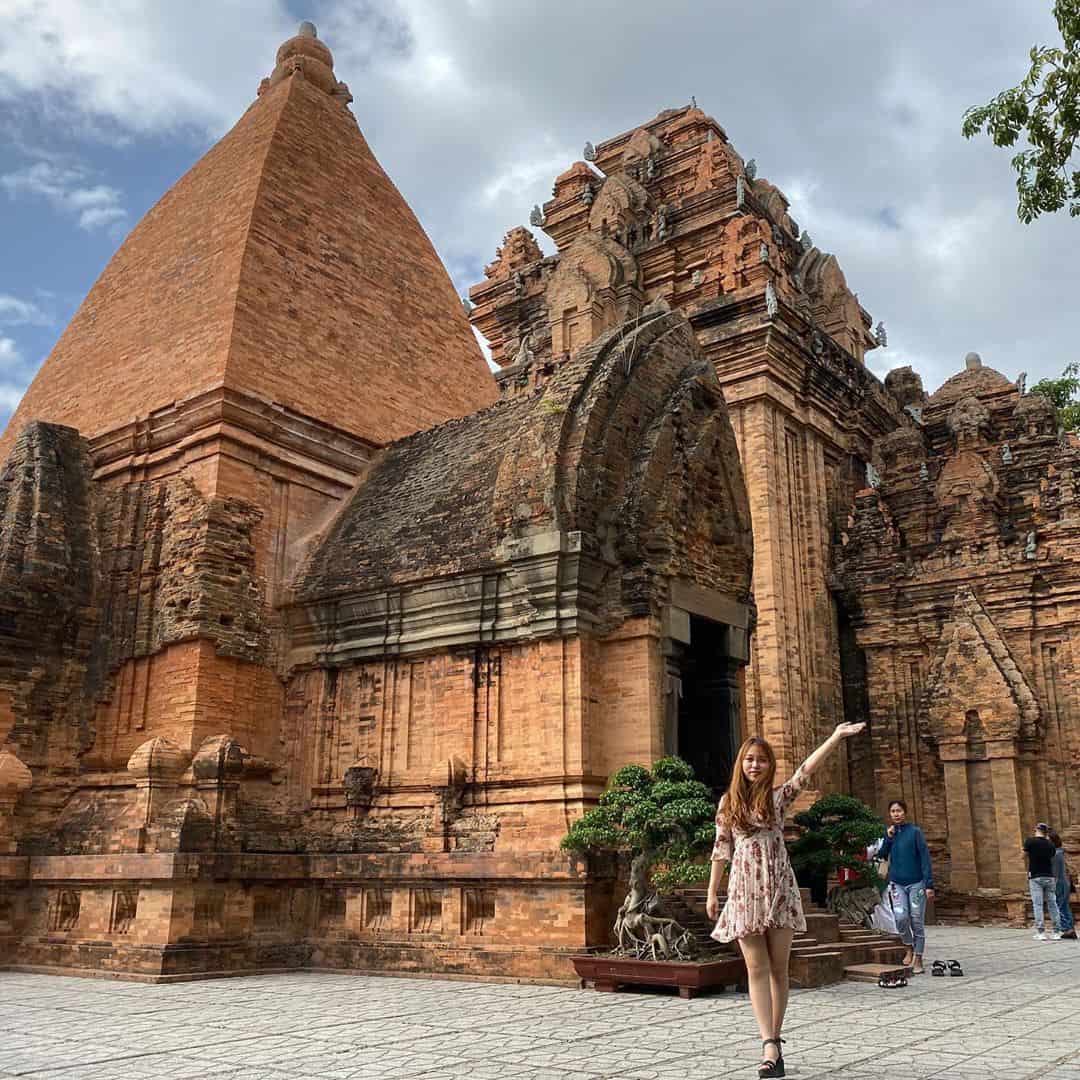 Mrs. Ponagar has a unique architectural style. Photo: @yebinnis2
Located on a hill 50m above sea level, Ponagar Tower is covered by the green color of forest trees, as a prominent work amidst the green natural background.
The overall architecture of the Ponagar tower consists of 3 floors: the lower floor is an ancient tower that is no longer available. On the middle floor is a guesthouse called Mandapa, for guests who can rest after their pilgrimage, consisting of 4 octagonal columns that create an extremely fancy architecture.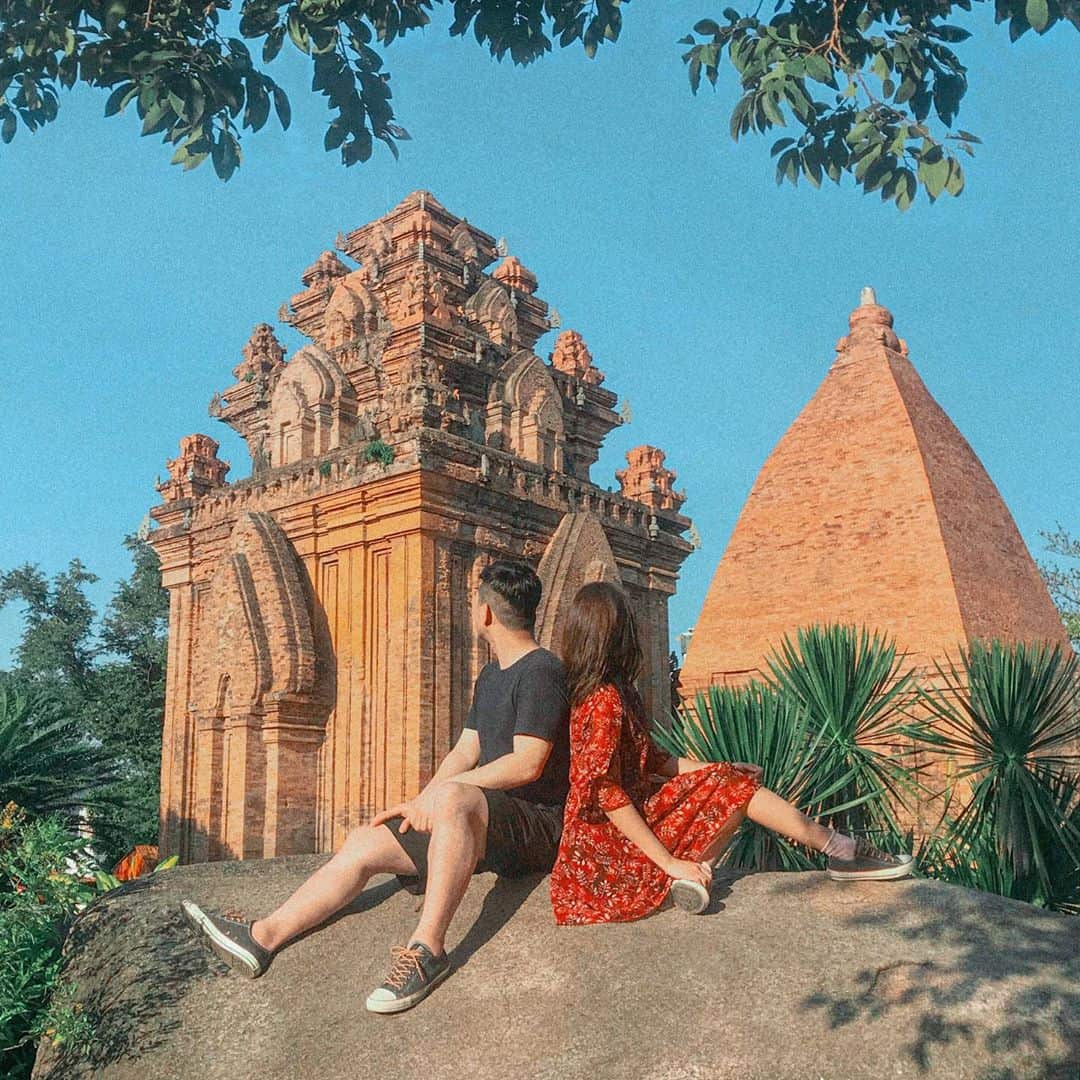 The tower is covered with fresh green from the trees. Photo: @happysaea
The top floor is the residence of the towers. The special feature in the structure of the towers is that the bricks are arranged very closely and it is almost impossible to see the adhesions between the bricks. The tower has 4 floors, each floor has a door. Inside is a marble statue of a goddess sitting on a lotus pedestal, exuding an extraordinary majesty and reverence.
Nha Trang Stone Church
Address: 31 Thai Nguyen, Phuoc Tan, Nha Trang City, Khanh Hoa
Nha Trang Stone Church is a famous landmark of the city, it has more historical and cultural value than an ordinary religious church. As a historical witness, the Stone Church has witnessed many changes over time of this city, and now, it is also a beautiful landscape, contributing to the attraction of this dreamy coastal city. .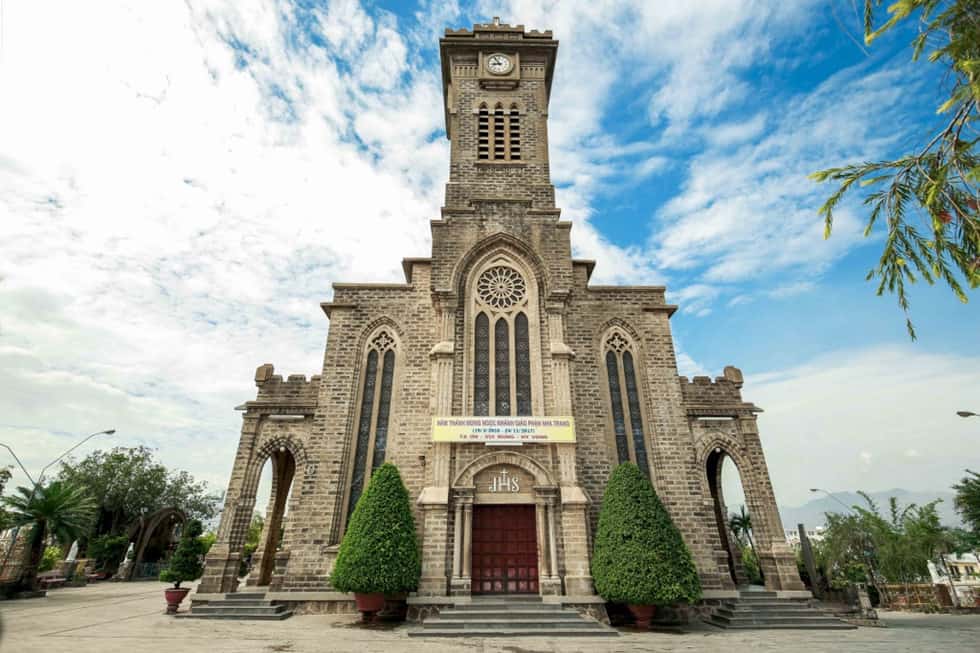 The stone church with outstanding architecture is made entirely of stone. Photo: ST
As its name suggests, Nha Trang Stone Church was built entirely from cubist stones in the typical cubic architecture of the West. In addition to the familiar name, Stone Church is also known by many other names such as Mountain Church, because it was built on Bong Mountain, or Nha Trang Church, Nga Sau Church … But the most official name of the house This church is the Cathedral of Christ the King because it is an orthodox Catholic church.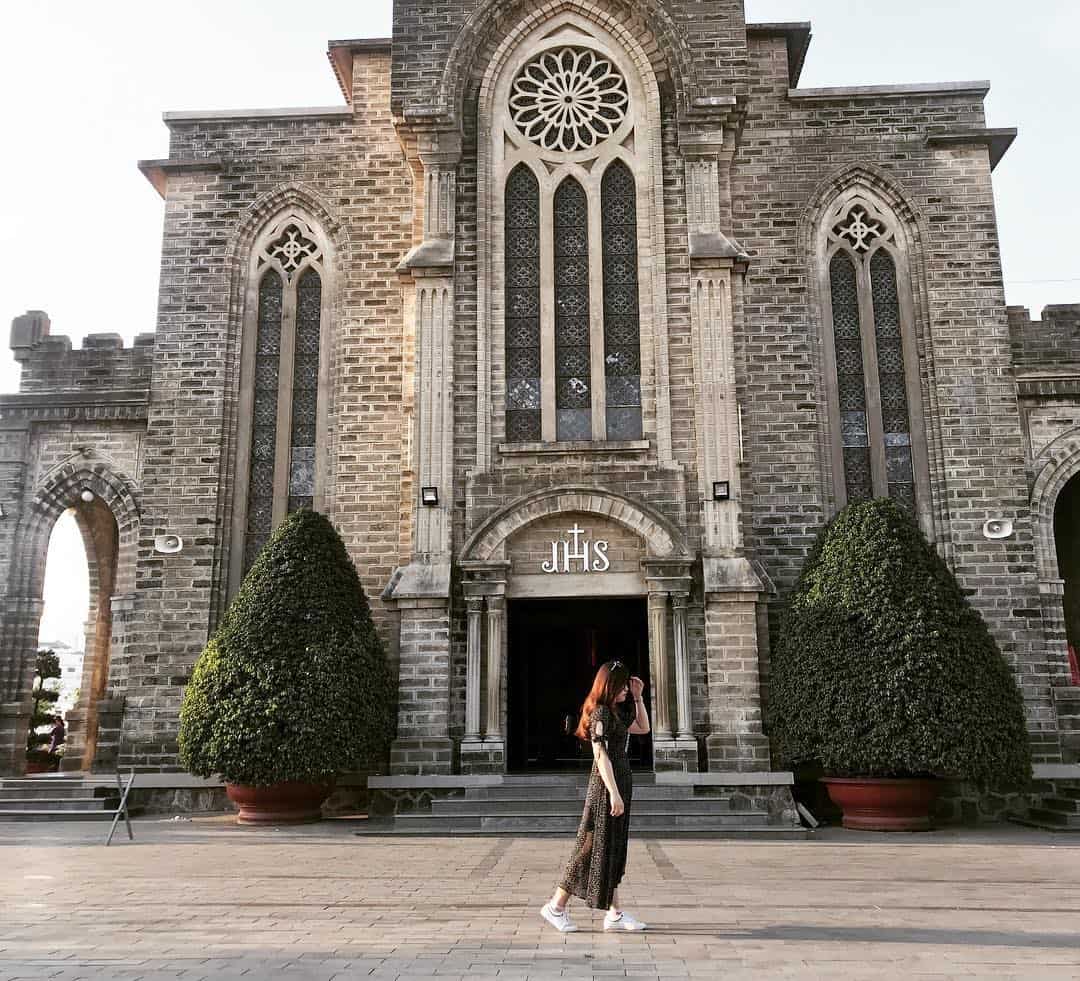 The space of the church is quite quiet and peaceful. Photo: ST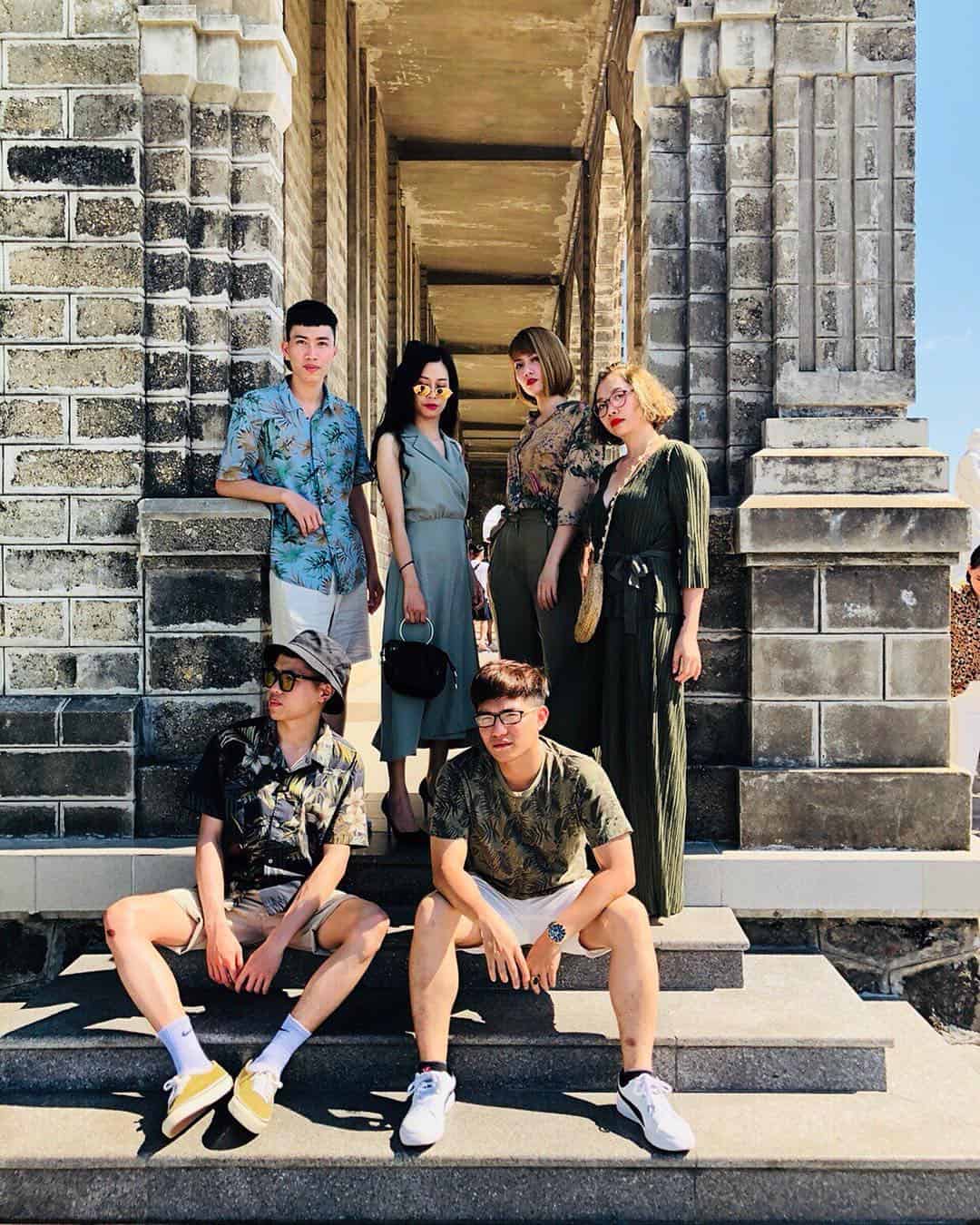 A virtual living corner of the church. Photo: @ducnghiazzzz
Nha Trang Stone Church is not only a religious place of Nha Trang diocese, serving parishioners to attend mass and pray, but also a famous tourist attraction in Nha Trang .
Long Son Pagoda
Address: 20 Street 23/10, Phuong Son, Nha Trang City, Khanh Hoa
Referring to the tourist destination of Nha Trang, it is impossible to ignore the sacred place Long Son Pagoda – Long Son Tu, especially famous for Kim Than Phat To as a beautiful symbol of the city. The beauty of Nha Trang is diverse in time and place, sometimes it's busy in the bustling streets, at times it's peaceful and unspoiled in the vast sea and islands. peace.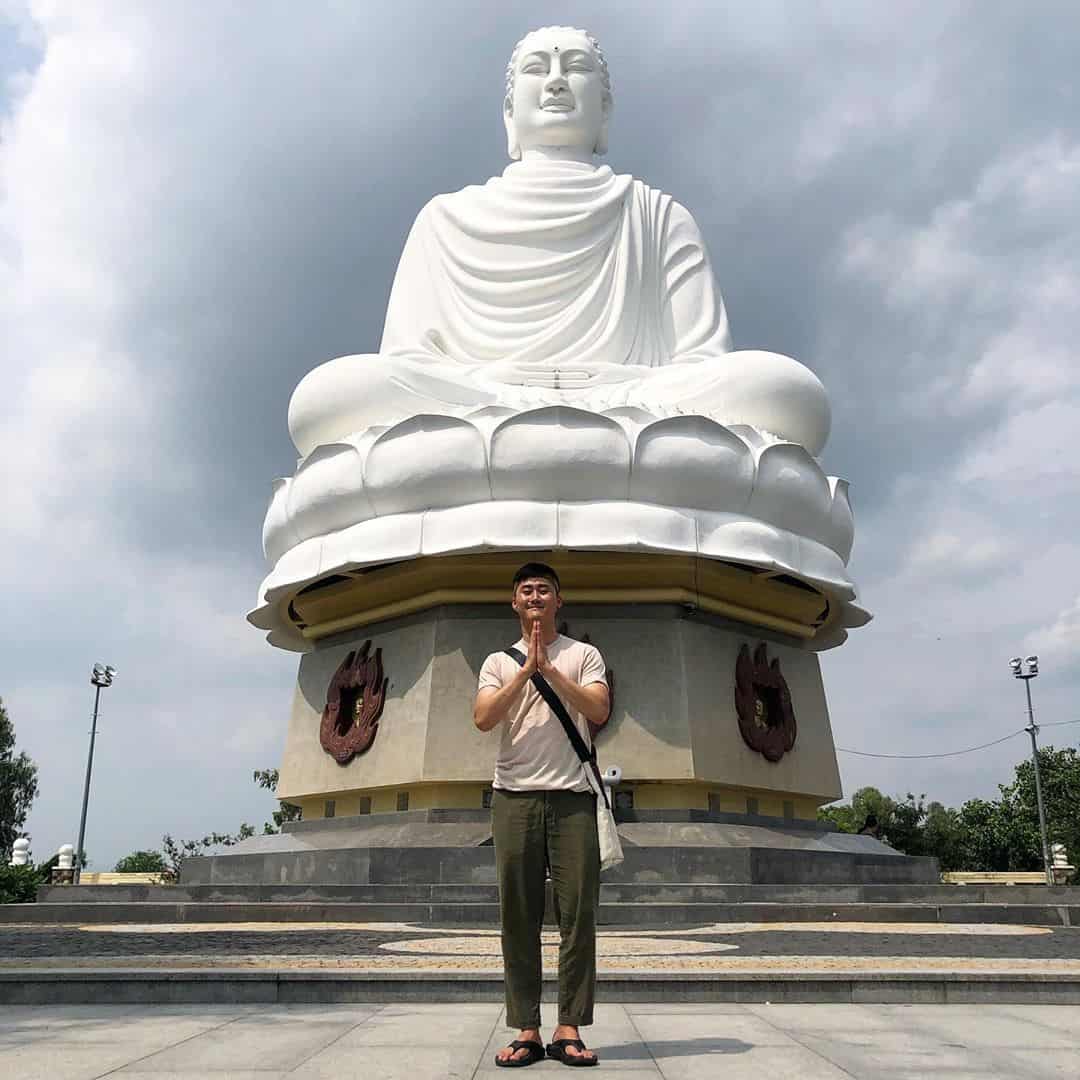 Kim's body is Buddha – the pride of Nha Trang city. Photo: @andrew_kwon
Located right at the foot of Trai Thuy mountain, Phuong Son ward, Nha Trang city, Khanh Hoa province, is a majestic more than hundred-year-old temple Long Son is a pilgrimage place for many Buddhists and a place to find peace in the souls of many people. people. Long Son Pagoda has undergone many restorations but still retains its ancient and dignified features. Currently, this is the most famous temple of Khanh Hoa that many tourists know and visit when they have the opportunity to return to Nha Trang.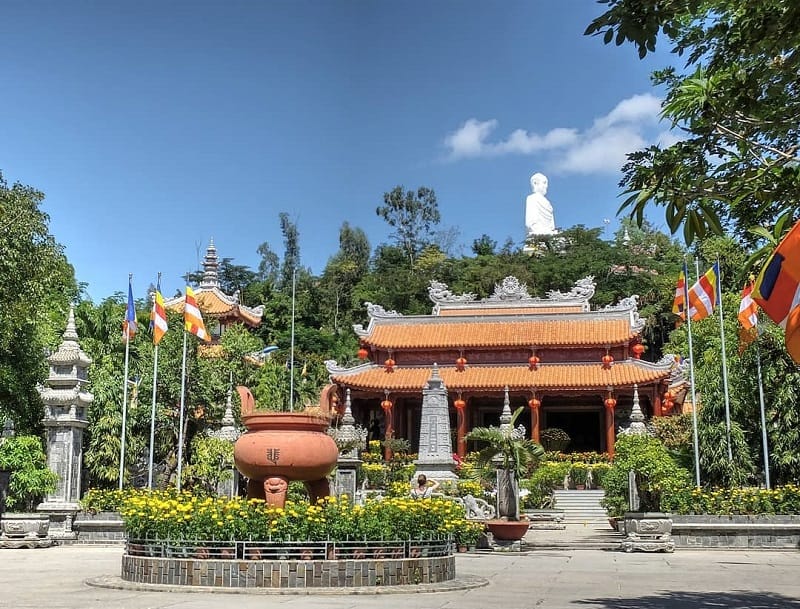 Long Son Pagoda is peaceful and ancient. Photo: ST
Looking down from the pagoda, you can admire the panoramic view of the beautiful and peaceful Nha Trang city, as if gathering all the quintessence of heaven and earth that flourished like today. Coming to Long Son is a journey to find a peaceful place in everyone's soul.
Diep Son Island
Located in the beautiful Ninh Van Bay, the beautiful Diep Son Island stands out as a distinctive mark of Nha Trang. The pristine island is where the primeval mountain range of Diep Son is still preserved, so the island is also called after Diep Son. While the dig is actually a cluster of 3 small islands: Hon Bip, Hon Giua and Hon Duoc, which are connected by a unique sand road over 800m long but less than 1m wide. It is this road that makes the unique attraction of this interesting tourist destination in Nha Trang .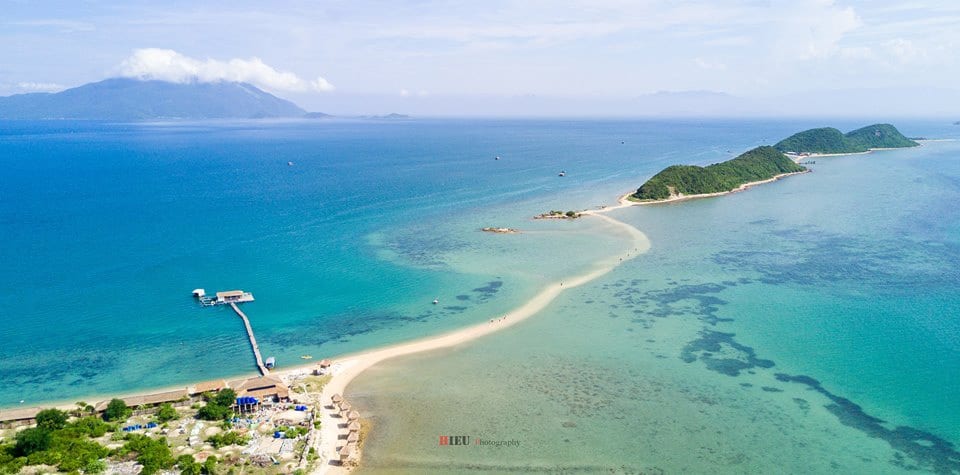 The beautiful road on the sea at Diep Son island. Photo: Tran Trung Hieu
The landscape in the island is very primitive, the population on the island is quite sparse, only about 80 households and life is quite simple and difficult due to lack of electricity. The people on the island currently live mainly by fishing. In the future, it is hoped that Diep Son's infrastructure in the near future will be developed, not only to serve tourism but also to enhance and improve the lives of the people here.
Small leaf huts were built right on the beach. Photo: @foodynhatrang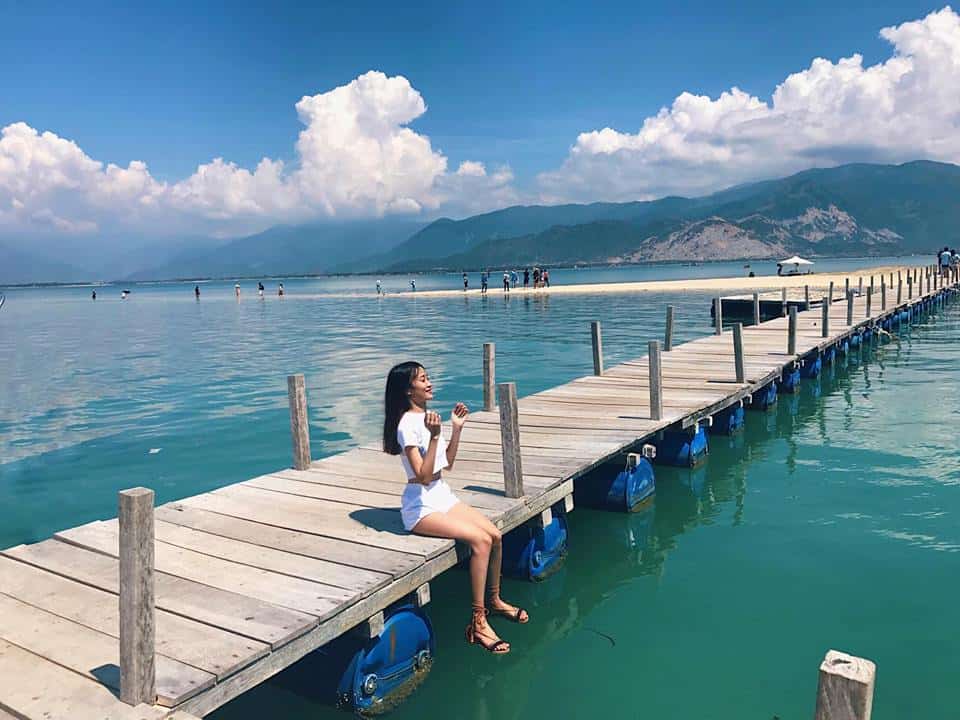 The wooden bridge spans the middle of the beautiful blue sea. Photo: ST
Monkey Island Nha Trang
Nha Trang impresses visitors with many interesting and unique tourist attractions, including Monkey Island Nha Trang . Monkey Island is a tourist destination in Nha Trang located right on Hon Lao Island in Nha Phu Bay, about 18km north of Nha Trang city center. This is the only island in Vietnam where thousands of monkeys live and develop naturally.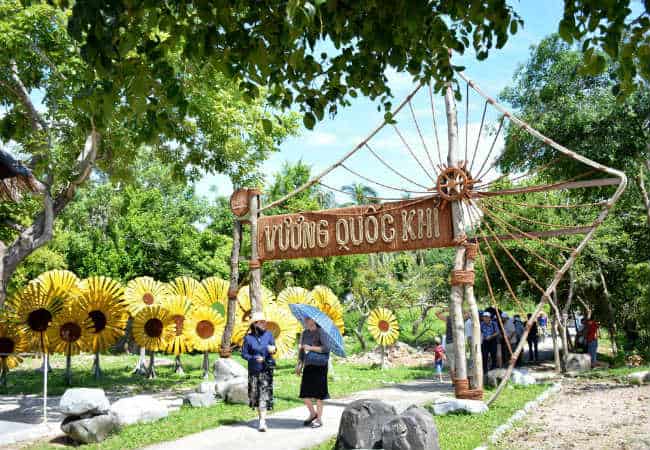 There is a monkey kingdom in Nha Trang. Photo: ST
Currently, Monkey Island is known as a special eco-tourism park in Nha Trang with two species of monkeys being tamed and living naturally. When visitors come to visit, they can freely play with mischievous monkeys, they will be very friendly and make jokes with people.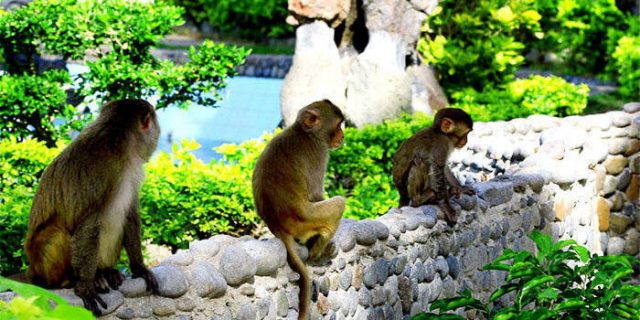 The monkeys are very friendly with visitors. Photo: ST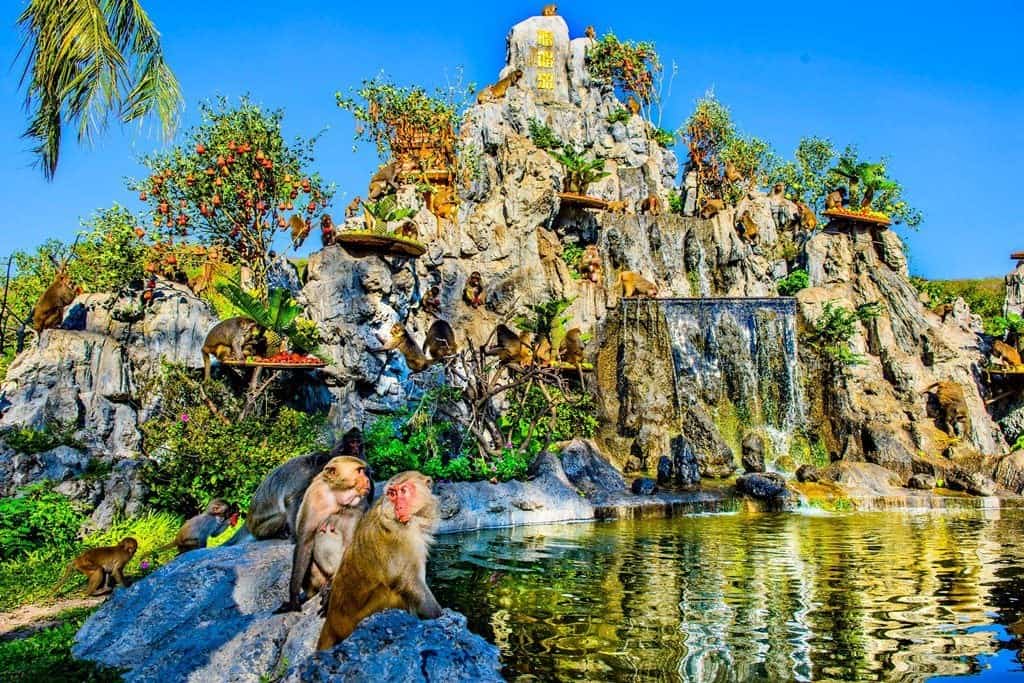 The scene is no different from the kingdom of Qi Tian Dai Thanh. Photo: ST
Besides visiting and playing with monkeys, Monkey Island also attracts tourists with its charming, unspoiled natural scenery and the idyllic life of the island's inhabitants. Visitors can also participate in many other activities such as riding a horse-drawn carriage around the island, participating in games and other attractive services such as scuba diving to see corals, playing parachute, riding a water motor
Nha Trang Long Beach
Bai Dai Nha Trang is a beautiful beach that is receiving much attention in recent times and is expected to be a new bright spot in the travel itinerary of this beautiful coastal city. The sandy beaches stretch, white as smooth as the skin of a beautiful girl sleeping in the calm sea, immense waves.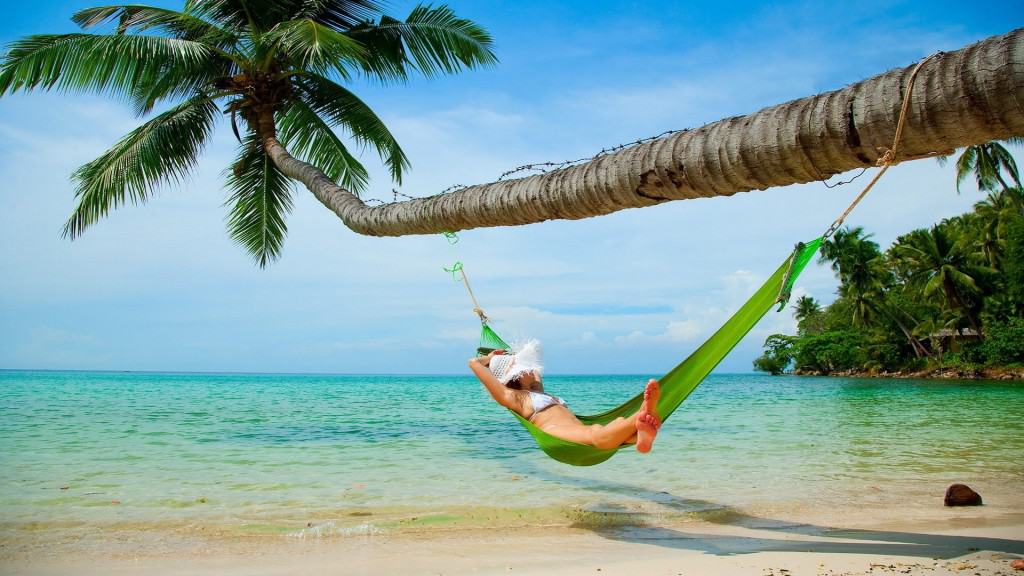 The long beach is quite calm, not noisy, suitable for a refreshing afternoon nap.
Swimming at Bai Dai is also a very special hobby compared to other beaches in Nha Trang. The coast here is not too deep but only gentle, the waves are also very smooth, not noisy or rushing, giving visitors a peaceful and wild feeling like a place no one has ever visited. More interestingly, although the coast stretches like that, but this place has fresh water located right next to the sea, just need to dig about 2m deep, we can enjoy fresh fresh water.
Binh Hung Island
As beautiful as an ivory pearl, but Binh Hung Canh Ranh Island, Khanh Hoa is still a "raw pearl" with hidden potentials and charming values ​​no less than any other beautiful island of Nha Trang. Binh Hung Island is located not far from Binh Ba Island, but the landscape here is unique with many enchanting beaches with clear blue water and funny names, such as Kinh Beach, Banana Beach, Cay Me Beach, and Da Beach. Eggs, Mossy … each beach has its own charm with rocks of various shapes, designs and colors.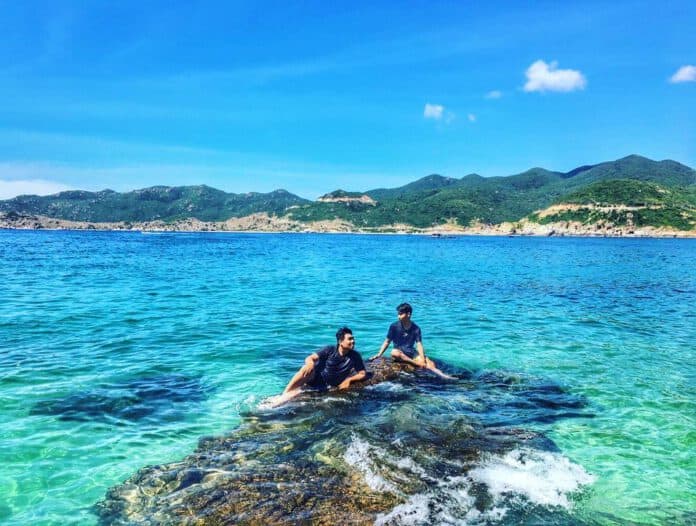 Binh Hung sunny day. Photo: ST
The sea here is not deep, the water is clear blue, you can see the bottom, even see the coral reefs near the shore. People on the island mainly live by fishing, especially lobster farming with great economic value. The raft houses on the island are also the unique landscape of Binh Hung Island. Coming here, visitors will be very satisfied when enjoying delicious seafood specialties such as lobster, sea urchin, sea crab…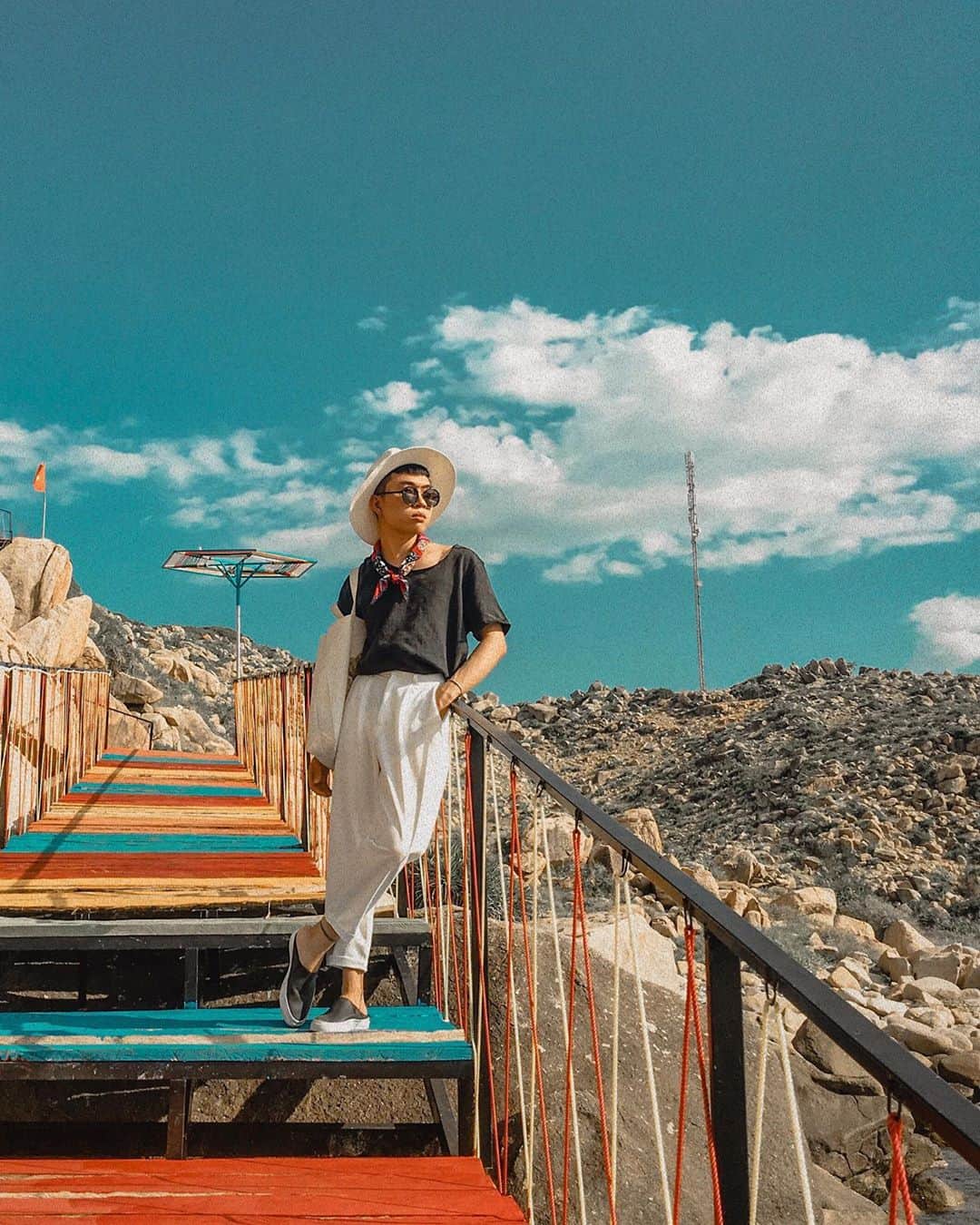 The 7-color wooden bridge leads down to the brilliant sea under the golden sun. Photo: @canhciu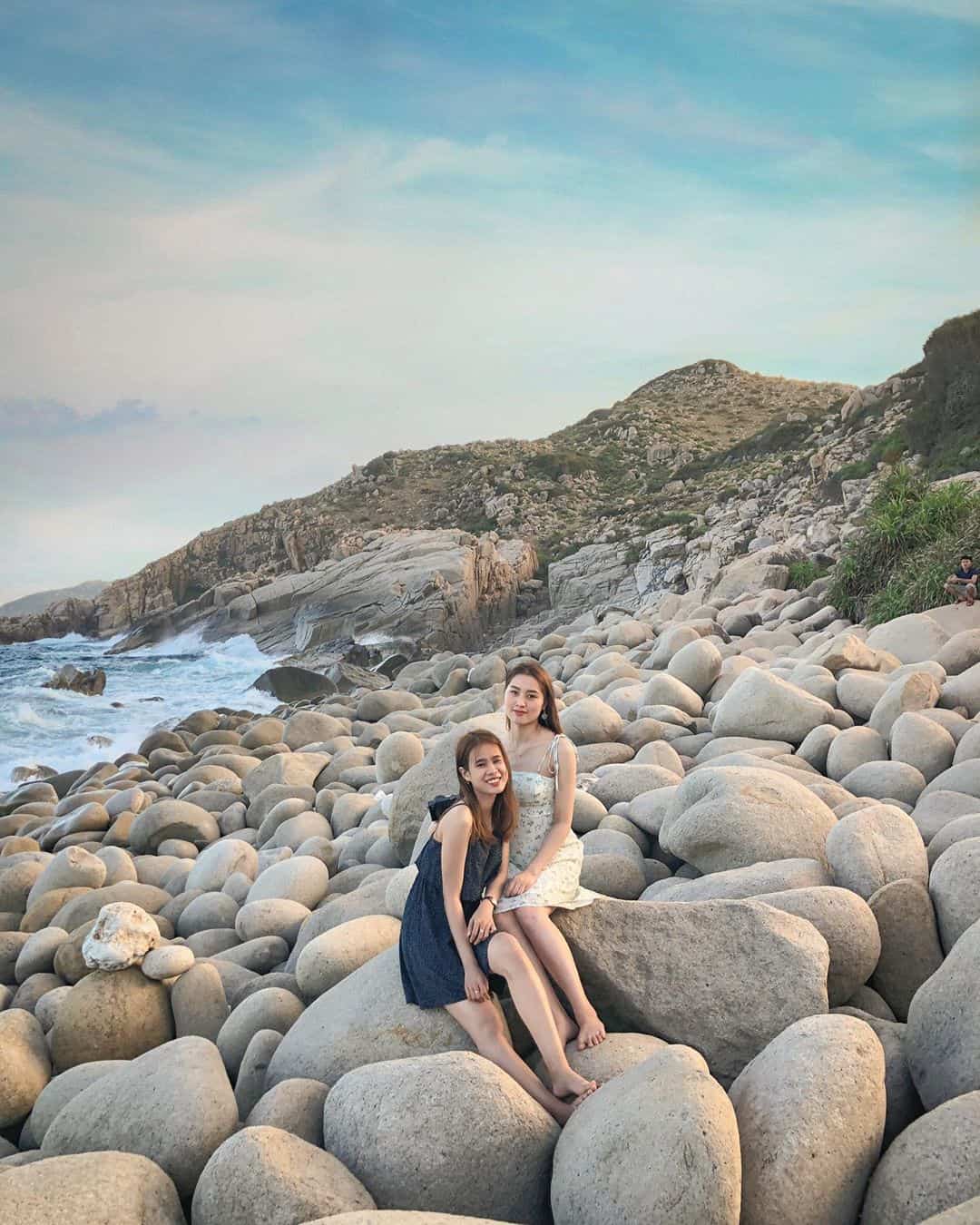 Beautiful rocky beach located right next to the sea. Photo: @binhsoo
Binh Ba Island
Binh Ba Island Khanh Hoa , a familiar land associated with the funny name "lobster island" with wild but rich landscape. The island is being invested and developed into a tourist destination attracting tourists to visit and explore with excitement from the first steps on the island.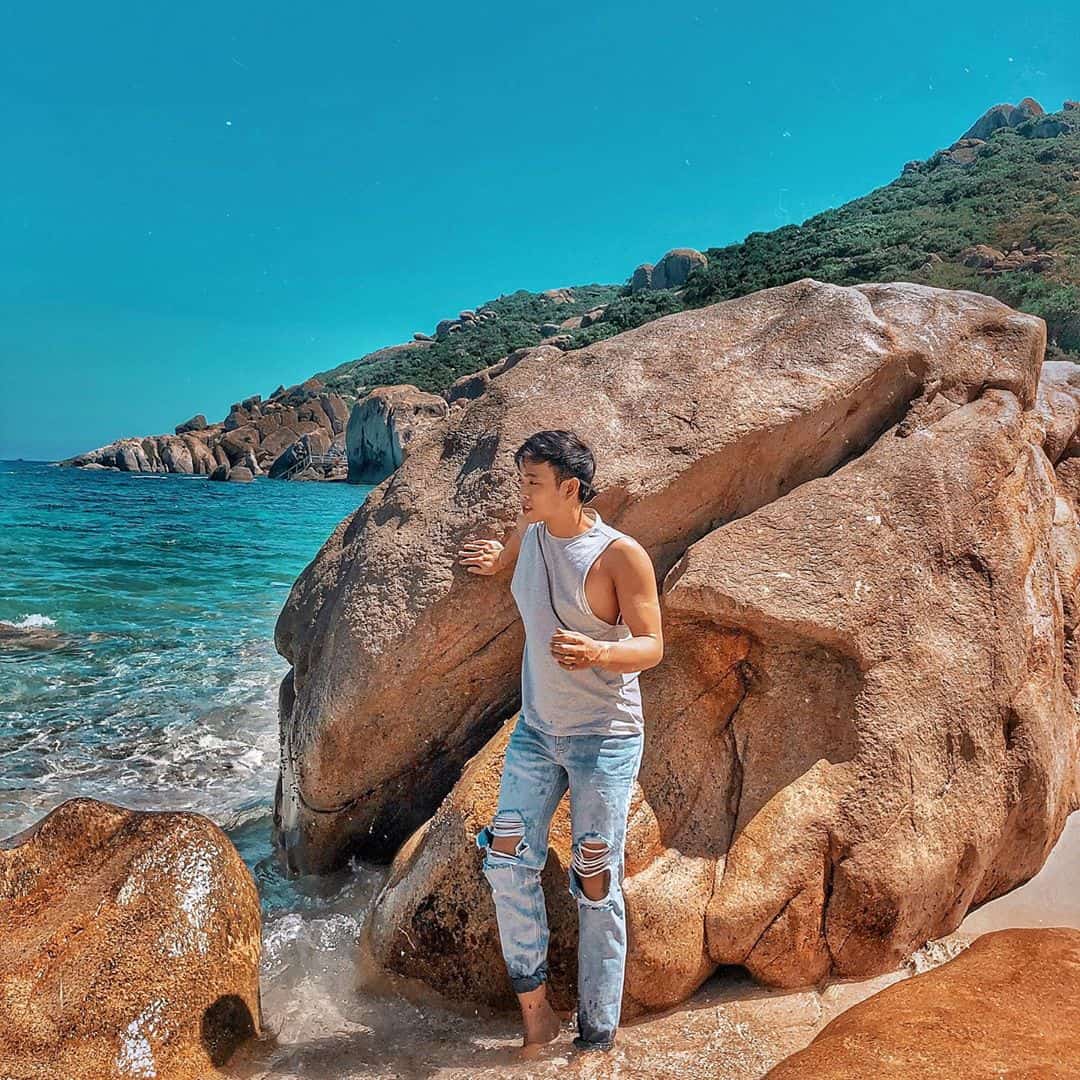 Impressive rocks on Binh Ba. Photo: @liti57
The first impression of visitors when coming here is a pristine island with many beautiful beaches, blue water, white sand, stunningly beautiful. Because tourism has not been exploited much, the pristine island gives visitors a feeling of peace and relaxation, which is very suitable for resting activities after long tiring days with work and daily life. On the peaceful coast, there are beautiful beaches, empty of people and only the sea of ​​clouds and sky, a peaceful blue color.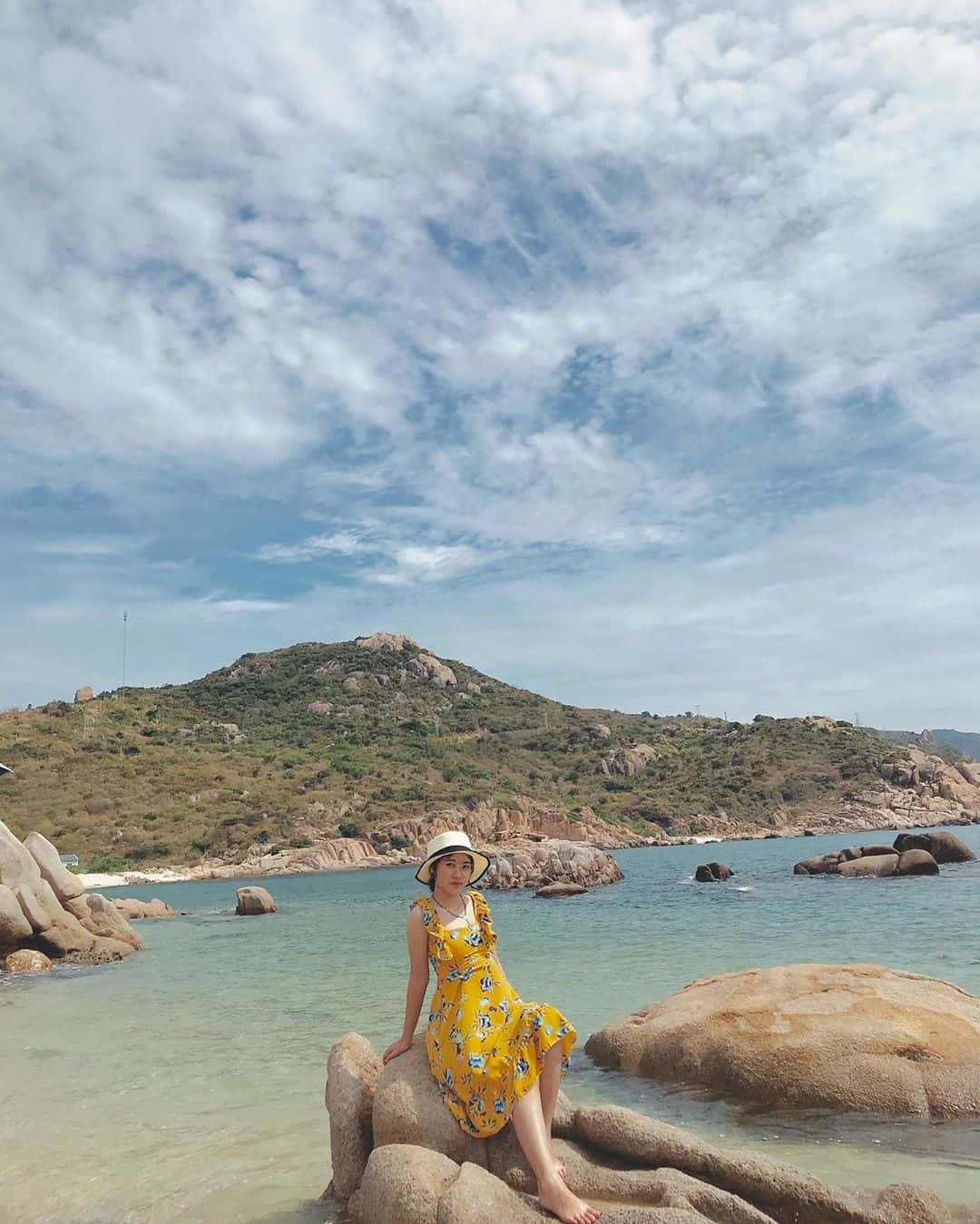 The sky is blue with white clouds, you sit in the sun and look so charming. Photo: @nvanhthu
The most beautiful must mention the magical sunrise or sunset moments at the three most famous beaches of Binh Ba island: Bai Nom, Bai Nha Cu and Bai Chuong. Visitors are free to choose or experience all three of these wonderful beaches.
A small note, that you also need to know before coming here is that there are not many hotels in Binh Ba, you should book a room before going to the island to avoid spending a lot of time looking for a room
Van Phong Bay
Located quite far from the city center (about 40km to the North), Van Phong Bay possesses an extremely wild, rustic, strangely peaceful beauty. It is still a clear blue beach that moves people, but Van Phong does not bring the noisy, crowded look of the city but is quieter, more quiet, more mysterious waiting for people to discover.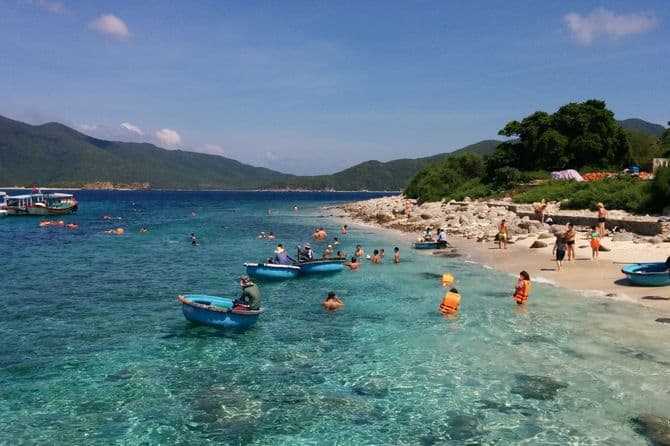 Vinh Van Phong brings simplicity and peace like a small countryside. Photo: ST
Binh Lap Island
Located between the waters of Tu Binh – Cam Ranh, but Binh Lap island is still a relatively new tourist destination in Nha Trang due to its location almost separate from the outside. Traveling to Binh Lap island will be an unforgettable experience for visitors in the midst of a wonderful paradise.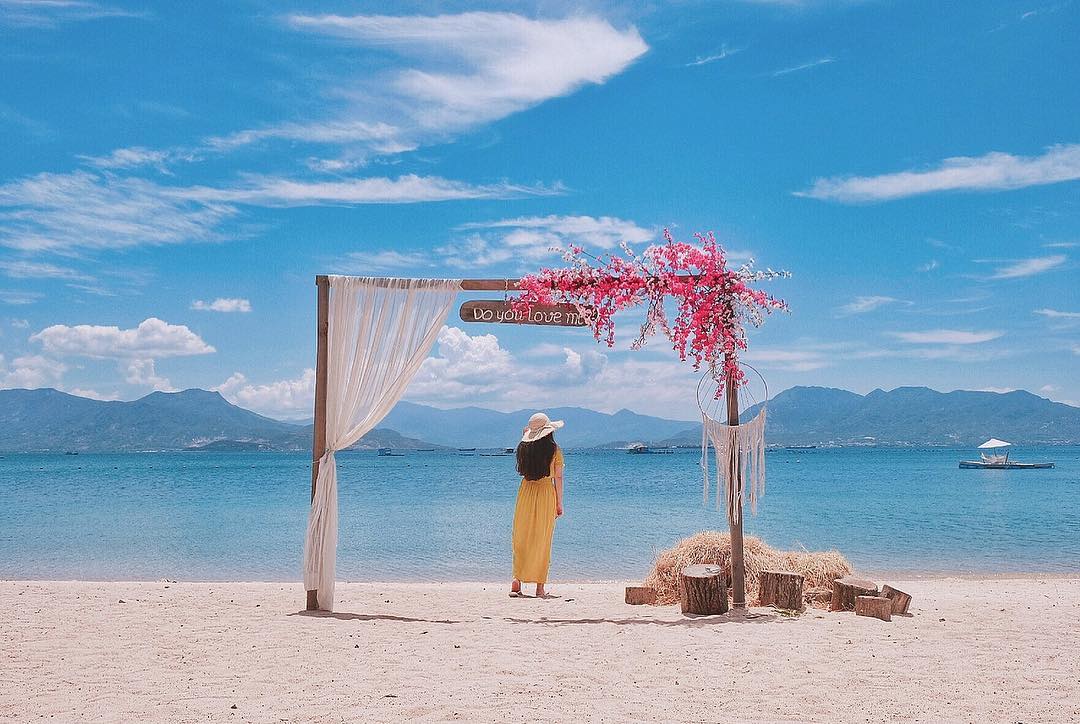 Do you love me? Ảnh: @simiiiii
To move to Binh Lap island, visitors will have to go through a long but not boring road with a beautiful coastal road, passing through Thi Nai lagoon, King lagoon and through Nui Chua national park and bay. Vinh Hy. Going through the roads, admiring the breathtaking scenery of one of the most beautiful coastal roads in Vietnam, you will be amazed at the beauty of the country's homeland.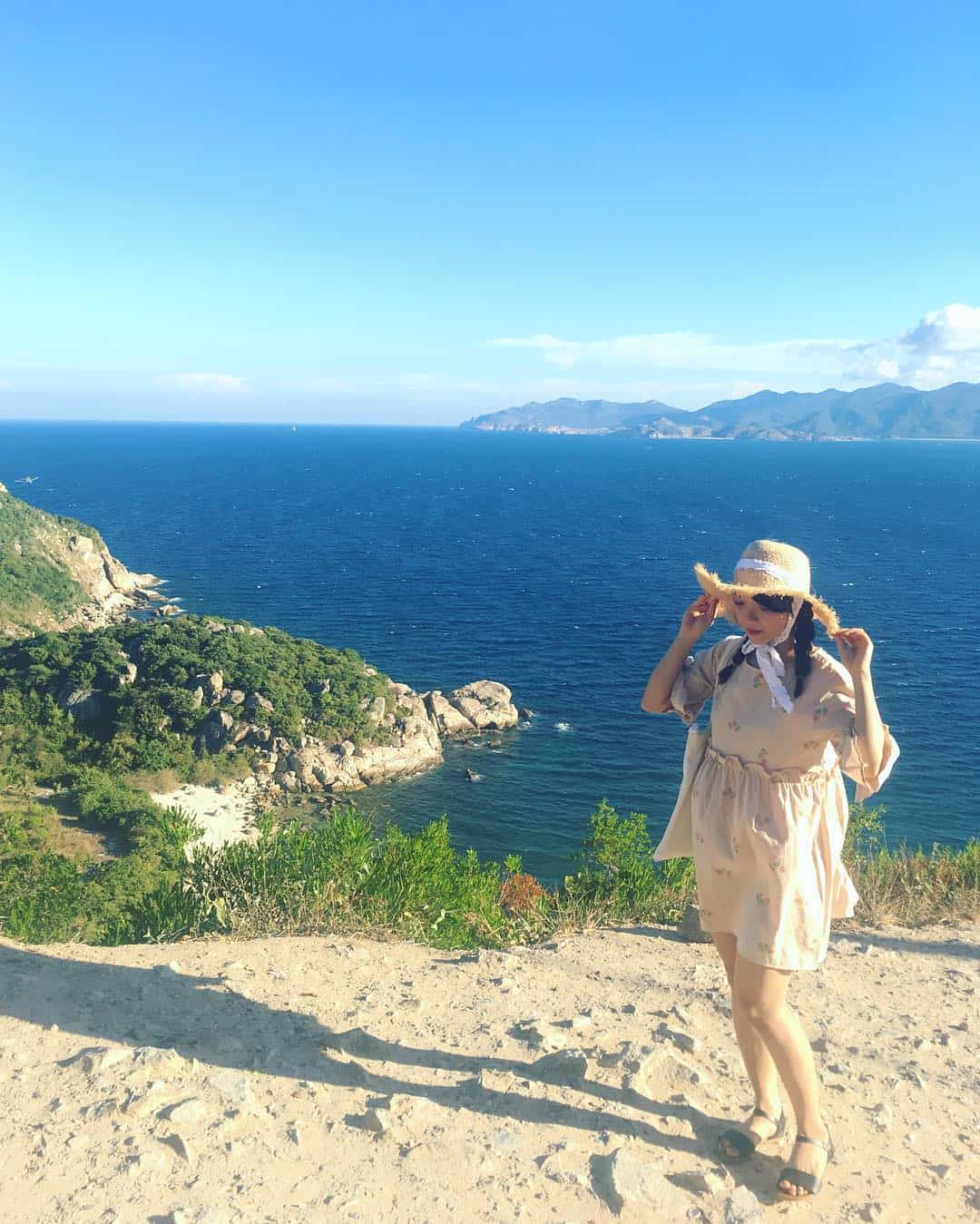 The wind here is quite strong! Photo: @kenly_truong
Binh Lap Island is as beautiful as a natural masterpiece with the wildest and purest. Immersed in the quiet space of the blue sea, smooth white sand, you will feel like you are lost in another world, unusually peaceful and quiet. In front of the beautiful seascape, enjoying delicious seafood dishes is a pleasure not to be missed in Binh Lap island. Because the seafood is caught right on the island, it is very fresh and the price cannot be more reasonable. When night falls, you can choose to sleep in a tent right on the beach to watch the starry sky and listen to the sound of waves crashing on the sand.
Nha Trang 's tourist attractions are so rich that they can't be mentioned, the above are just some suggestions from Vntrip. If you want to experience the most authentic beauty of Nha Trang, come here quickly. Because there are beautiful scenes that words cannot describe, but must be felt with both the soul and all the senses. Wish you have the most memorable Nha Trang travel discovery journey !
Ninh Van Bay
Along with Nha Trang Bay, Ninh Van Bay is as beautiful as a dreamy fairy in the vast blue sea. Located on Hon Meo peninsula, Ninh Van Bay is about 60km from Nha Trang city, so visitors can travel here by speedboat and can enjoy the panoramic view of the beautiful Nha Trang bay from the boat.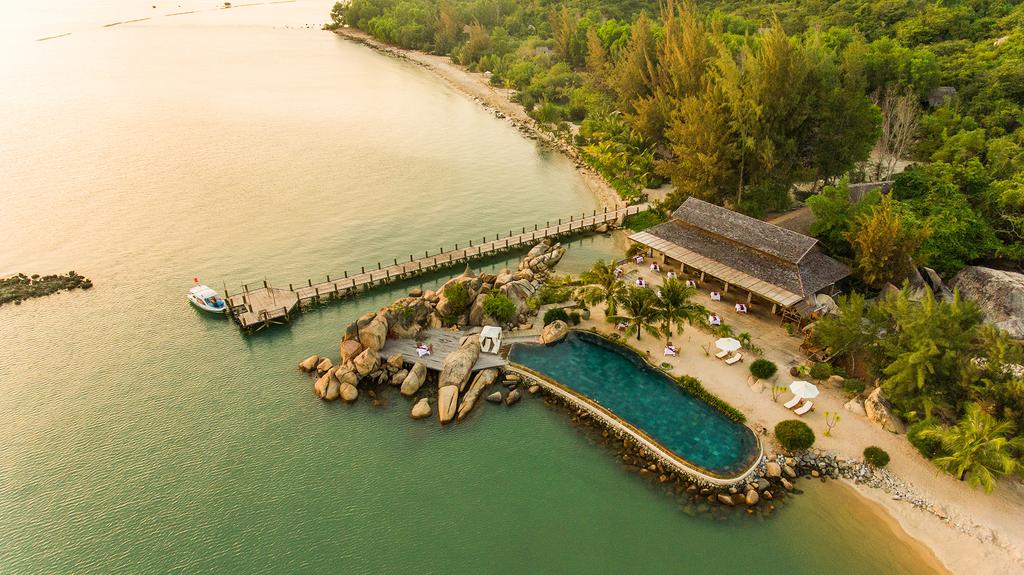 Ninh Van Bay is poetic, sweet and beautiful like an ink painting
Ninh Van possesses a wild and pure beauty, especially suitable for tourists who want to experience the feeling of relaxation in a peaceful space amidst the blue sea and sunshine. Hidden behind the ocean in Ninh Van Bay is also the enchanting beauty of colorful coral reefs.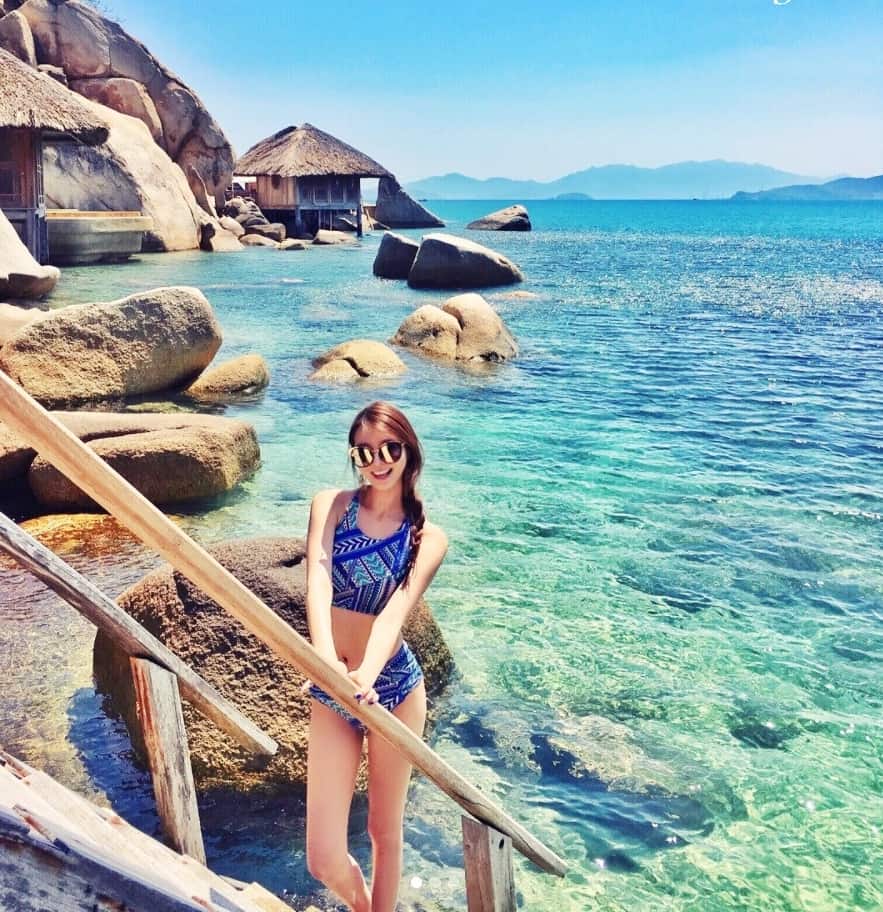 The sea water here is clear and extremely clean. Photo: ST
Currently, this place is being invested and developed into a world-class resort but still retains the inherent wild features of the nature here. The resorts are built in harmony with nature from the quiet bamboo thatched roofs where the shade of coconuts flutters.
The peaceful and peaceful scene of Ninh Van Bay. Photo: ST
Interior architecture is also made of wood, bamboo and other natural materials. At Ninh Van Bay, visitors will have the opportunity to experience many interesting activities such as snorkeling, surfing, swimming or kayaking.
Ninh Van Bay is a very suitable place for tourism combined with relaxation. Spending time resting here is a great remedy to relieve all your stress and fatigue! Let's refer to the resort hotels here to prepare for your upcoming trip