| | |
| --- | --- |
| Game | Ailment: space bullet hell, game for IOS |
| Type | IOS game |
| Publisher | Bullet rush space indie game |
| Install | |
Description
If you're looking for a free-to-play story-driven action-packed game with lots of guns, hordes of enemies, super intense game-play with horror ambience and sci-fi movie references, then Ailment is the perfect choice for you.
Dive into dramatic surrounding and get old-school vibes from this pixel-art adventure. Finish solo play campaign and master your skills playing PVP Multiplayer with your friends or players around the world.
And you can always play offline if there's no connection, you're on a train, or on a bus, or even a plane.
HARDCORE SINGLEPLAYER CAMPAIGN:
In-game story takes place on a spaceship in a far-far galaxy. The main character wakes up in a med bay after being unconscious for three days and he sees that all of his crew became enemies. The last thing he remembers is returning from another spaceship where he had a rescue mission. But he arrived everyone on that ship was already dead… He has to remember what happened to him and find out the truth.
PVP ONLINE MULTIPLAYER:
Get guns, change characters' skins and challenge your friends or player all over the world in PVP Multiplayer mode, show them what your worth!
CUSTOMIZABLE CONTROLS:
Not comfy with the controls? Change them as you wish!
MULTIPLE LOCALIZATIONS:
* French
* Spanish
* Italian
* English
* Russian
* Ukrainian
* Japanese
* Chinese
* Portuguese
* Polish
* Korean
* Turkish
OTHER COOL FEATURES:
* Tons of different weapon
* Brutal animations
* Atmospheric sound effects
* Ability to bring NPCs with you
* Liveable and talkative main character
* Good humour
* Short levels
* Hard-core gameplay
So If you're a hardcore player and a huge fan of RPG, retro, dungeon crawler, hard-core, shooter or adventure games then download Ailment right now and have hours of fun!
Thanks to:
Volodymyr Shyshov for Ukrainian localization
Marta Barrena Domingues for Spanish localization
Cédric Hautefeuille for French localization
Jorge Cruz for Portuguese localization
Efdal Karaaslan for Turkish localization
Nicola Giuseppe Colafemmina for Italian localization
Natalie Stanley-Ward for English localization
Rafał Miszkurka for Polish localization
Min Joo Song for Korean localization
Mintoda for Japanese localization
Follow me
Twitter: @i_panasenko
Facebook: https://www.facebook.com/groups/105604003372997
Web: http://beardybird.squarespace.com/games#/ailment/
This app allows you to purchase virtual items within the app and may contain third-party advertisements that may redirect you to a third-party site.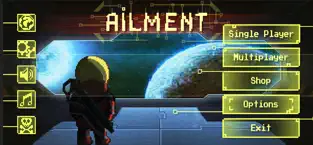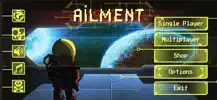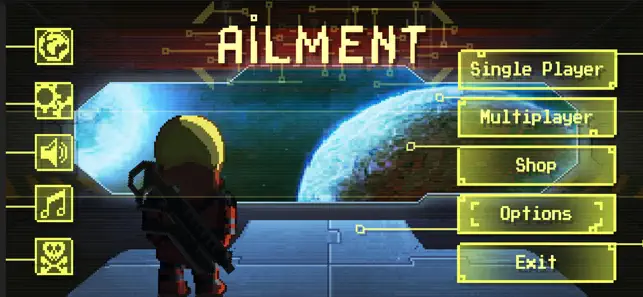 SellerIvan Panasenko
Size246.7 MB
CategoryGames
Compatibility
iPhone

Requires iOS 11.0 or later.
iPad

Requires iPadOS 11.0 or later.
iPod touch

Requires iOS 11.0 or later.
Age Rating9+
Infrequent/Mild Cartoon or Fantasy Violence
Infrequent/Mild Horror/Fear Themes
Copyright© Ivan Panasenko
PriceFree
In-App Purchases
8000 In-Game Points

$2.99

2000 In-Game Points

$0.99

Remove Ads

$2.99