Famous for its majestic scenery along with terraced fields as far as the eye can see, the buckwheat flower fields covered with purple hills mixed with the ethnic culture of the highlands are the things that attract tourists everywhere. to Ha Giang.
The majestic scenery of the northernmost land of the country is worth going in every season, worth admiring, on the way you will encounter places where there are roads running to the blue sky, places where the shape of the country emerges like a mountain. map, or places with large terraced fields.
Ha Giang is not only beautiful because of its majestic scenery, it is also famous for all kinds of flowers. Here, flowers bloom all year round with magical colors such as yellow of Canola flower, purple of Triangle flower, pure white of Plum flower.
All make Ha Giang an attractive tourist destination that you cannot ignore.
Ha Giang is beautiful all year round, you can travel to Ha Giang or backpack Ha Giang at any time of the year. However, to fully explore the beauty of this rocky plateau, you should come to Ha Giang at the following times.
JANUARY: THE SEASON OF PEACH BLOSSOMS, PLUM BLOSSOMS, AND CANOLA FLOWERS
Spring comes, everywhere from Quan Ba ​​(Quyet Tien, Minh Tan), Yen Minh (Lao Va Chai, Na Khe, Bach Dich), Dong Van (Pho Bang, Pho Cao, Sung La, Sa Phin, Thai Phin Tung) , Meo Vac (Sung Tra, Sung Trai, Lung Phin), where peaches, plums, and cabbages are blooming along with the black stone background of the rocky plateau, with the folds of houses.
April, May: Water season
In the pouring water season, most of the fields in the Northwest of our country pour in from May to June, in a few places in July, a few plots can store water from April; But the most beautiful time is still in the middle of transplanting, from May to June.
Coming to Ha Giang, visitors can see picturesque rice fields in the rainy season: Hoang Su Phi, Quan Ba ​​twin mountains, or small fields dotted along the happy road of Ma Pi Leng…
September, October: The golden rice season
September and October is the time when the weather is already autumn, the images of terraced fields and valleys at the foot of the pass are covered with a picturesque golden robe in this top land of the country. many people feel discouraged.
October to December: Buckwheat Flower Season
Every year around the end of October, until December, people do not tell anyone, so they go to Ha Giang to see buckwheat flowers. Purple buckwheat flowers spread across the hillsides. Recently, in the season of buckwheat flowers in full bloom, there is a Triangle Flower Festival scheduled this year to be held in mid-October.
There are many ways to go to Ha Giang from Hanoi, you can take a bus and then go to Ha Giang to rent a motorbike or private car. If you want to take the initiative in time and route from Hanoi, you can use your own car or private motorbike to go to Ha Giang.
GOING BY BUS
From Hanoi, you should take the night bus Hanoi – Ha Giang departing from My Dinh bus station at 9 pm and at 5 am will arrive in Ha Giang, the car will move directly from Hanoi to Ha Giang city.
Note: you should take a bus at night around 9pm the night before (usually Thursday or Friday night) to sleep one night on the bus, and return on Sunday night, so you will save 1 night above bus.
TRAVEL BY MOTORBIKE OR PRIVATE CAR TO HA GIANG
You can choose one of the following two routes:
– Route 1: Hanoi – Vinh Phuc – Viet Tri – Phu Tho – Tuyen Quang. This route is known by many people and also has quite a lot of cars passing by.
– Route 2: Hanoi – Son Tay – Trung Ha Bridge – Co Tiet – Phong Chau Bridge – Phu Tho – Doan Hung – Tuyen Quang, then from Tuyen Quang City continue to Ham Yen – Bac Quang – Vi Xuyen – Ha City Jiang.
TRAVELING IN HA GIANG
After you reach Ha Giang City, you should rent a motorbike to explore all the tourist attractions of Ha Giang. Normally, tourists traveling to Ha Giang often choose to take a bus to Ha Giang from the night before, spend the night in the car, and arrive at Ha Giang city at about 5 am the next morning.
When you arrive in Ha Giang city, you have breakfast, then rent a motorbike to go from Ha Giang city to Dong Van, Meo Vac, Lung Cu flagpole, back to Yen Minh and then back to Ha Giang city, on the way from Ha Giang up. Dong Van you will pass through most of the most beautiful tourist attractions in Ha Giang.
Coming to Ha Giang, you will see the first majestic landscape of Hoang Su Phi terraced fields in the ripe rice season, the valley of buckwheat flowers, go through the dangerous but also very poetic roads of one of the four great peaks of the pass. Ma Pi Leng, or feel the peaceful and ancient life in Dong Van old town…
The most beautiful tourist attractions in Ha Giang are scattered along the route from Ha Giang City to Dong Van, here are the most beautiful tourist attractions you should not miss on the journey to discover Ha Giang.
Milestone Km 0 : This is the first interesting check-in point on the journey to discover Ha Giang, located right in Ha Giang city, from Hanoi going up, don't forget to take some commemorative photos at this landmark. .
Bac Sum slope : The next attractive tourist attraction on the way to discover Ha Giang is Bac Sum Doc, this is the most dangerous steep slope in Ha Giang connecting Minh Tan commune, Vi Xuyen district with Quyet Tien commune. Quan Ba ​​district.
From a distance, Bac Sum slope looks like a soft silk strip across the top of the mountain. Amidst the craggy cat-eared rocky mountains, Bac Sum slope is hidden in the mist. Crossing the slope of Bac Sum, the whole place is as beautiful as a watercolor painting
Quan Ba ​​Twin Mountains : The image of smooth green double mountains at Ha Giang tourist destination is probably no stranger to tourists, located in the southwest of Dong Van Karst Plateau Geopark.
At the foot of the twin mountains is the rice field of Quan Ba, in season four colors are unmistakable. Not only that, covering the space here are the colors of illusions and legends.
Yen Minh Pine Forest : Leaving Quan Ba ​​heaven gate, you move in the direction of Yen Minh town, you will pass through Yen Minh pine forest. Yen Minh road stretches about 50 trees from Quan Ba, surrounded by immense green pine forests, growing straight on both sides of the road.

Yen Minh pine forest.
Tham Ma slope : This is one of the most favorite check-in points in Ha Giang. Tham Ma slope is a steep road with many consecutive sleeve turns before connecting from Yen Minh town to Pho Cao.
The slope is quite dangerous because of the high difficulty sleeve bends, once conquered, standing from the top of the slope looking down will be very beautiful and attractive.

Tham Ma slope.
Sung La Valley : in Dong Van town, on National Highway 4C, known as a paradise of highland flowers and grass, people call Sung La Valley as a place where flowers bloom, previously the valley mainly planted flowers. Poppies, now Sung La valley is famous for many beautiful flowers.
The fields and mountainsides and hillsides here look a lot of flowers such as Triangle Circuit, Golden Cabbage, Rose, but the most famous is still Triangle Flower. Here you will see the most beautiful buckwheat flower fields in Ha Giang.

Sung La has the most beautiful buckwheat flower fields in Ha Giang.
Also, coming to Sung La, don't forget to visit "Pao's house", a very famous place that was chosen as the setting in the movie Pao's house. The house is very unique, bearing the characteristics of Dong Van houses, the house has stone walls, ancient architecture, around the house is a lot of peach blossoms, buckwheat flowers…

The house was taken as the setting of the movie "Pao's House" in Sung La.
The Meo King Residence : also known as the Vuong family residence, is located in Xa Fin commune, Dong Van district, where it is ranked as a national monument. The Meo King's residence not only contains historical stories but also a dense and attractive architectural layer.

Cat King Mansion.
Lung Cu flagpole : known as the top of the country, this is the most famous destination of Ha Giang. The flagpole is located on the top of Lung Cu, the 54m wide flag represents Vietnam's 54 ethnic groups, standing at the foot of the pole and looking at the flag is a very proud thing for each person coming here.

Lung Cu flagpole.
Dong Van Old Town : Located in Dong Van town, surrounded by four mountains and forests, 40 ancient roofs are alternately arranged, creating a wild but ancient picture hidden behind the dense fog of the mountains and forests. .
Formed in the early 20th century, at first, Dong Van old town was home to Mong, Tay and Hoa families, later, residents of other localities came to form a cluster of people. crowded.
This tourist attraction is not only beautiful because of the time stamp but also has bold Chinese architecture, in the dreamy space of the horn of a Hmong boy or the dance of a village girl.

Dong Van Old Street.
Ma Pi Leng Pass : As one of the four great mountain passes of the North, this is the most dangerous pass in Ha Giang, located on the Happy road connecting Dong Van town with Meo Vac.
Ma Pi Leng Pass possesses soaring and dangerous rocky mountains, tangerine clouds, creating a spectacular natural scene. The pass road has many twists and turns, below the abyss, it is really a challenging road for backpackers.

Ma Pi Leng Pass.
Hoang Su Phi – National Heritage : Hoang Su Phi is a district of Ha Giang, not located on the road from Ha Giang to Dong Van, and quite far from Ha Giang. Hoang Su Phi consists of 6 communes: Ban Luoc, San Sa Ho, Ban Phung, Ho Thau, Nam Ty and Thong Nguyen.
This place is known as an outstanding place to watch ripe rice in Ha Giang, a whole carpet of attractive golden ripe rice opens up in front of visitors.
Coming to this tourist destination, visitors will be able to take pictures as they please between the terraced fields, you can also go to the highland market and enjoy the attractive wine.

Hoang Su Phi terraced fields are the most beautiful in Vietnam and recognized as a national heritage.
Ha Giang rocky plateau not only has majestic scenery that fascinates people but also a culinary paradise with strange and unique delicacies, here are outstanding delicacies in Ha Giang you should try.
Thang Co : This dish is very popular in the highland provinces, but each place has its own unique flavor, Thang Co in Ha Giang has the aroma of cardamom, doi seeds and lemongrass, mixed with a greasy taste. of meat to warm the space in the cold weather.

Thang Co – Ha Giang specialty.
Five-color sticky rice : Called five-color sticky rice because unlike ordinary sticky rice, five-color sticky rice is made up of five types of sticky rice with five different colors. It is red, yellow, blue, purple and white. You can easily find five-color sticky rice at markets in Ha Giang.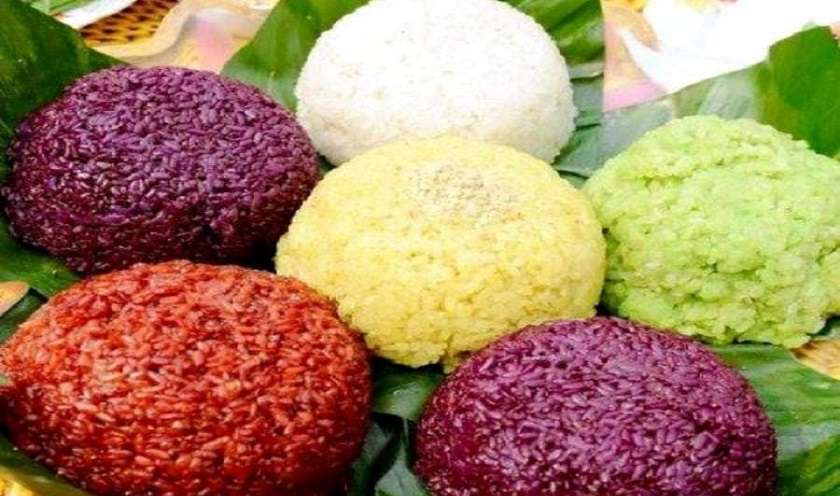 Five-color sticky rice – Ha Giang specialty
Kitchen buffalo meat: is a special dish often seen in the meals of the Black Thai people. This meat dish is often made from the corn of domestic buffaloes and cows grazing in the mountains and hills of the Northwest.

Kitchen buffalo meat – Ha Giang specialty.
Au Tau Porridge : Cold winter night, wandering in Ha Giang town, looking for a corner of a restaurant and ordering au Tau porridge. All kinds of flavors in a small bowl of porridge: the attractive aroma of glutinous rice with yellow flowers mixed with fragrant rice grown on the upland finely cooked, the fleshy taste of carefully simmered tubers and greasy pork leg broth, the smell of aromatic leaves, spice leaves. The bowl of au tau porridge looks very attractive by the harmonious combination of rice, minced meat, bone broth, herbs…

Ha Giang's typical au Tau porridge.
Lam Bac Me Rice : is one of the specialties of the same land of Ha Giang. This dish has long been especially loved by tourists and chosen as a gift every time they come to the rocky plateau. Dishes have delicious, attractive flavors that are unforgettable when enjoying them just once.
Cam Bac Quang : For a long time, oranges have become a famous specialty when people go far and near to mention Bac Quang land, the next thing is tea. This land has climate and soil conditions unlike any other to create oranges with a distinct, extremely sweet and attractive flavor of the southern mountainous region of Ha Giang province.
Rock Moss : For a long time, rock moss was only considered as a type of aquatic life with little effect. But for the Tay people in Xuan Giang commune, Quang Binh district, Ha Giang province, rock moss is considered a specialty in their cuisine. Dishes made from rock moss are also known as cinnamon sticks.
Thang Den : is a popular dish in Dong Van, in the middle of the town where the winter wind blows, but sitting by the fire eating a bowl of Thang Dan, there is nothing as warm and interesting as that.
Sausages in the kitchen : Sausages in Ha Giang have the smell of the highland sunshine, the smell of kitchen smoke, the smell of ginger, the smell of wine, the smell of honey in a special way. The chewy taste of the heart, the sweetness of the lean meat, and the fat of the fat blend together, making it delicious to eat. Sip a little more wine, it's even more enjoyable.
THE AREA HAS MANY DELICIOUS RESTAURANTS IN HA GIANG
In Ha Giang, it is easy to find a good restaurant with specialty dishes of the Northwest mountains of Vietnam. Right near famous destinations are the places where the most restaurants are concentrated. Visitors can stop to dine at points: Quan Ba, Yen Minh, Dong Van and Meo Vac.
Ha Giang is currently a very popular destination in the North. Therefore, the accommodation service is also very developed, there are many accommodations in Ha Giang for you to choose, the accommodations are often located near famous tourist attractions.
You can easily find yourself a suitable accommodation, the popular types of accommodation in Ha Giang are Homestays, motels, cheap hotels, in addition, recently there are also a number of resorts and resorts built. to serve visitors.
If you go in a high season such as the ripe rice season or the buckwheat flower season, you should book a room in advance to avoid the situation of running out of rooms when you arrive.
REFERENCE SCHEDULE 3 DAYS, 2 NIGHTS
Day 1: Hanoi – Ha Giang – Dong Van
– 06h15: Depart for Ha Giang tour.
– 09h00: Stop to rest and take pictures of Tuyen Quang tea hill on the way.
– 11:30: Have lunch in Ha Giang city. After lunch, continue to Dong Van to admire the beautiful scenery of Dong Van Stone Park Geopark.
– 16h30: Arrive at Sung La village to visit the Ancient house of the H'mong with an earthen report – which was used as a backdrop for filming the plastic film Pao's Story.
– 18h00: Arrive in Dong Van town, check-in, have dinner. In the evening, visit Dong Van Old Street and sip a cup of coffee in the Old Quarter. Overnight in Dong Van.
Day 2: Dong Van – Valley flagpole – Ma Pi Leng – Yen Minh
06h30 : Check out hotel, have breakfast and depart for Lung Cu.
08h30 : Visit Lung Cu Flagpole – the first place in the country, the point with the highest latitude on the map of Vietnam. On the way to visit the Meo King Palace, you stop to rest and take pictures of Tam Giac Mach flowers in Lung Tao area.
10:00 : Visit the palace of King Cat Vuong Chinh Duc located in a valley of Sa Phin commune, this is the richest and most powerful family in Chau Dong Van in the early 20th century.
11:30 : Have lunch at Dong Van. After lunch move to Meo Vac.
13h30 : Admire the majestic beauty of Ma Pi Leng pass, take pictures of the pass and Nho Que river from above, like a soft green silk strip.
15h00 : Stop to take pictures at the famous M-pass in Meo Vac.
17h00 : Back to Yen Minh town, check in and rest.
18:30 : Have dinner. Visiting Yen Minh landscape at night. Overnight in Yen Minh.
Day 3: Yen Minh – Quan Ba ​​- Ha Giang – Hanoi
06h30 : Check out the hotel, have breakfast and get on the bus to Quan Ba. On the way to Quan Ba, stop to take pictures of buckwheat flowers in the area of ​​Trang Kim and near Quan Ba ​​town (there are usually flowers in September to mid-December every year).
08:30 : Visit Quan Ba ​​market every Sunday morning.
09h15 : Stop at Quan Ba ​​Heaven Gate stop to take pictures of Co Tien Twin Mountain, also known as Quan Ba ​​Twin Mountain and the panorama of Tam Son town from above.
11h00: Have lunch in Ha Giang city.
19h00 : Arrive in Hanoi, end the trip to Ha Giang 3 days 2 nights
WHAT TO BUY AS A GIFT WHEN TRAVELING TO HA GIANG?
Ha Giang is a convergence of many ethnic minorities living together. Therefore, there are quite a lot of souvenirs and typical specialties for visitors to buy as gifts for friends and relatives such as: Dui Xin Man old rice, seedless persimmons (Quan Ba ​​persimmons), apples Cat, Ha Giang Orange, Buckwheat Cake, San Tuyet Tea, Bac Me Lam Rice, Mint Honey, Kitchen Buffalo Meat, Corn Wine…
Visitors can easily buy these items as gifts at highland markets such as:
– Dong Van
Market – Meo Vac
Market – Xin Man Market
In addition, on the way you can also buy these gifts. Because people often sit on the side of the road and sell their own hand-made things such as corn wine, home-grown oranges or apples.
NOTES WHEN TRAVELING TO HA GIANG
– If riding a motorbike, you need to bring: ID (driver's license and papers), buy spare gasoline (1.5l bottle) and borrow car repair equipment (pump, tire opener, patches, glue) stickers…) backup from the car owner. Car patching is now available on almost every stretch of the road, but these are much-needed backup for a safe motorcycle ride.
Clothing: In winter, you must definitely bring warm clothes, towels, gloves, because the winter in Ha Giang is very cold, and in the summer, you should also bring a thin coat, the highland climate at night can be a little bit cold.
– Shoes: preferably hiking or walking shoes.
HA GIANG MARKETS
Quan Ba ​​area
Huyen Market meets in Tam Son Town on Saturday morning at the weekend
Cao Ta Tung Market is the market of 3 communes Cao Ma Po, Ta Van and Tung Vai, meeting every Friday
Tung Vai market, meeting for 5 days a session
Trang Kim market (in Dong Ha commune) meets on the day of the Sheep and the day of the Ox
Nghia Thuan Market, meeting on the day of the dragon and the day of the dog, the day before in Vietnam, the day after in China
Market in Yen Minh District
Yen Minh Market, meeting every Sunday morning
Bach Dich market, there are 3 markets each week, namely Bach Dich Border Gate Market or Moc 9 market or Moc 358 market held on Sunday morning. Muong village market is held on Saturday, the last of the three market fairs in the commune is Trang Le market.
Du Gia Market, meeting every Friday morning.
Duong Thuong Market, meeting every Friday
Mau Due Market, meeting on Sunday morning
Sung Trang Market, meeting on Sunday morning
Dong Van District Market
Dong Van Central Market, meeting every Sunday morning
Sung Trai Market, meets regularly on the Ox (the Buffalo's day) and the Goat (the Goat's) day every month.
Lung Phin Market, Meeting on Tiger and Monkey day
Pho Cao Market, meeting on Dragon and Dog days
Xa Phin market, meeting on the day of the Snake and the day of the Pig)
Sung La Market, each meeting is separated by 6 days, so it is often called the back market
Ma Le Market, meeting on the day of the Rat and the day of the Horse
Lung Cu Market, meeting on the day of the Sheep and the day of the Ox
Pho Bang Market, meeting on the Day of the Horse and the Day of the Rat
Meo Vac District Market
Meo Vac Central Market meets every Sunday morning
Coc Pai Market meets on Sunday morning
Niem Son Market, meeting every 5 days
Khau Vai Market, meeting on the morning of the 2nd, 7th, 12th, 17th, 22nd, 27th (lunar calendar) of the month.
Khau Vai love market meets once a year on the 27th day of the third lunar month
Sung Tra Market, meeting every Saturday
Pa Vay Su Market is held every Thursday
Nan Xin Market meets every Thursday
Chi Ca Market meets every Friday
Xin Man Market meets every Friday
Then Phang Market (Km 26 Market) is held every Saturday morning