When threatened to repay a debt not due to them, people need to save evidence such as text messages, record phone calls and report it immediately to the police station.
Recently, due to frustration with the attitude of a female employee claiming to be from F. Finance Company, Mr. Quang Tan (living in Tay Ninh city, Tay Ninh province) released the recording on social networks. The 20-minute audio recording of the exchange between Mr. Tan and the female debt collector has hit the frustrations of many people in similar situations.
Call at 0 o'clock
Mr. Tan said that before this call, the female debt collector claiming to be Thuy called him to ask if she was a friend of Nguyen AH. Because he has many friends named H., Mr. Tan answered yes. Since then, there have been consecutive calls to harass and urge Mr. Tan to be responsible for paying debt on behalf of H. or to meet his friend to tell him to pay the debt to the financial company. At the peak, some of the calls took place at 0:00, when his whole family was sleeping.
The dialogue, posted by Mr. Tan online, contains insults such as: "What are you doing as a man? At first, he said that he was a friend of H., then he avoided it when he heard that you were owed money. To be a human being, you must know shame. , know self-respect. You must be responsible for paying your debt on behalf of you or meet you and ask to pay our debt. If you are not responsible, how will you teach your children. If you don't pay your debt, I will call my co-worker? career, my boss…".
Similarly, Mr. Nguyen Gia Thinh (living in Binh Thanh District, Ho Chi Minh City) said that in the past time, he continuously received many calls from strangers claiming to be the debt collection company for "Vu Vui V", threatening to "handle him". beautiful" because a relative named Ly VT borrowed money and refused to pay. According to Thinh, this object also called to threaten him late at night, making his wife very confused and worried. Thinh repeatedly explained that he did not know who the borrower named Ly VT was, but this subject still did not listen.
When Mr. Thinh said he would report to the police, the other object challenged: "I challenge both of you. Your family borrows money, your family has to pay. The police can't do anything to us. If you don't pay, what are the consequences, you know."
Not only calling, the subjects also texted with threatening content. Thinh blocked this number, another number continued to call.
Nguyen Van Nam and his wife (living in Thu Duc City, Ho Chi Minh City) also have a headache when many strangers call to ask to sell their car to pay their debt. These people said that Nam's nephew, Nguyen QA, borrowed 50 million VND, and he and his wife had to pay. Nam said that he didn't know who the QA was, so these people clearly stated his home address, who he had, and what his assets were…
"I was very confused because I naturally became a debtor. I repeatedly explained that I did not know who the borrower was, but they did not listen, but threatened to "kill" the whole family. I threatened to report it to the police, and they challenged me to speak out. will have an accident" – Mr. Nam worried.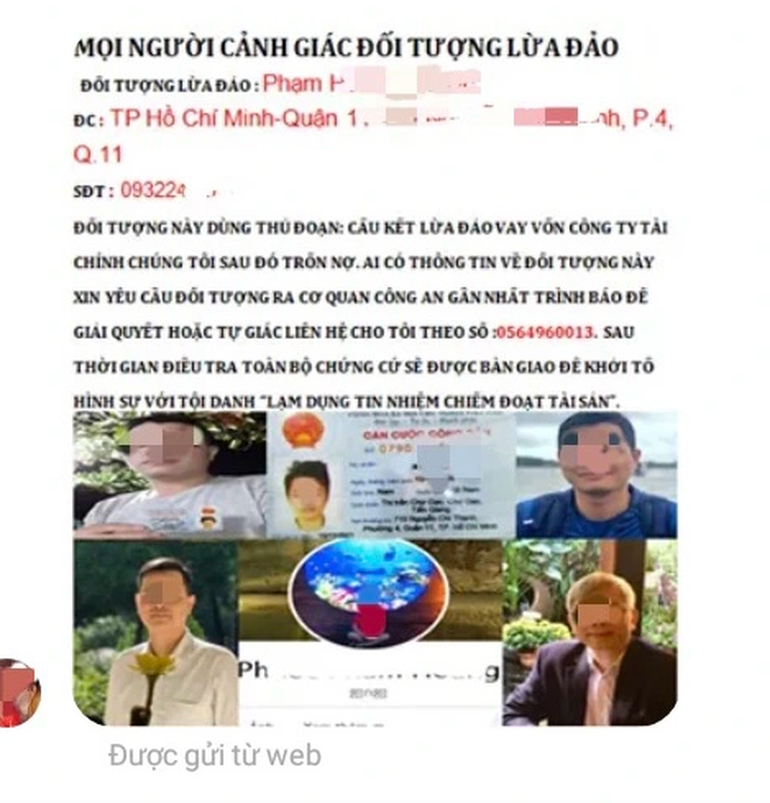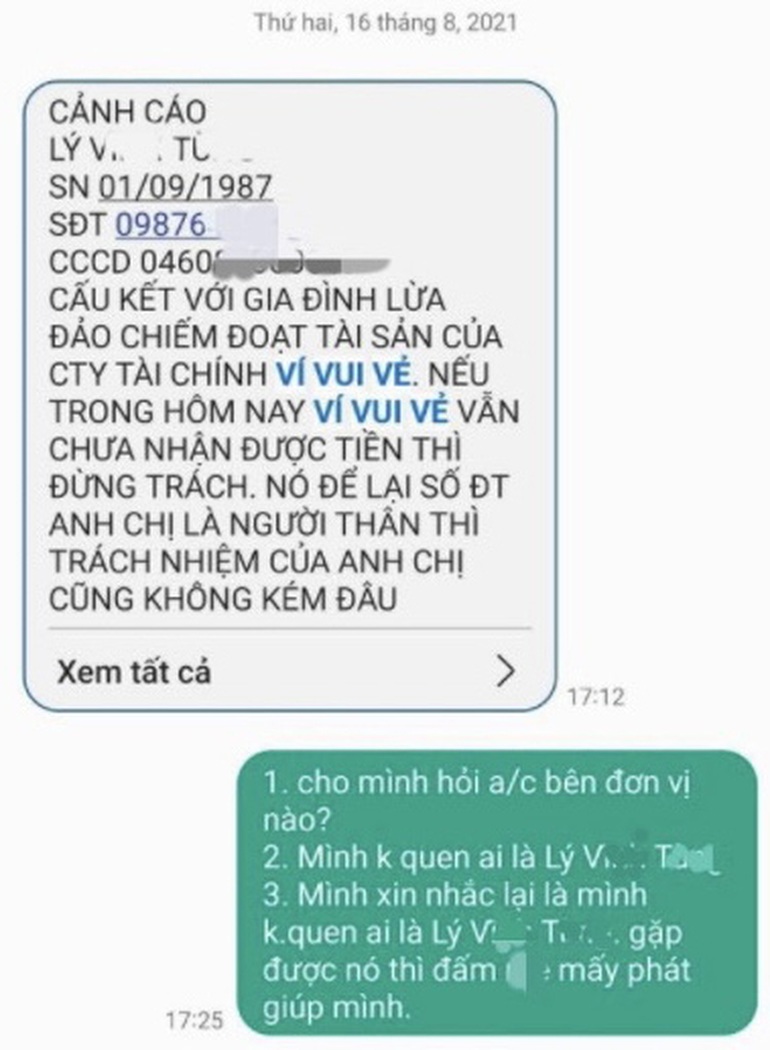 Must save evidence
According to the Department of Information and Communications of Ho Chi Minh City, over the past time, in the city, there have been many cases where even though they did not borrow money from any organization or individual, they did not guarantee loans for others but constantly received messages. , debt collection phone, threatening.
The reason is that when borrowing money in the form of unsecured, the borrower must agree to allow the lender the right to use and access the personal phone book or the list of friends on social networks through the application (app). ). When borrowers do not pay on time or lose contact, lenders will use this contact data to text, call to collect debt even though they are not related to loans, have no obligation to repay.
More seriously, in many cases, lenders used technology, cropped images with vulgar and sensitive content, etc. to post them on social networking sites, affecting honor and reputation. their.
In order for the authorities to intervene, protect and handle such cases, the Department of Information and Communications of Ho Chi Minh City recommends that people when being harassed should save their phone numbers, information, and photos. messages with threatening content, debt reminders, debt collection; enclosed with a document to the lending organization or individual to complain about debt reminder or debt collection measures against those who are not obliged to pay.
Individuals and organizations can send an application with evidence to the State Bank branch to propose the settlement of violations in the banking sector or send a report or denunciation to the police agency, the Department of Public Security. Information and Communication for support in handling acts of using telecommunications services to threaten, harass, insult the honor, dignity and reputation of others" – Ho Chi Minh City Department of Information and Communications idea.
XUAN THANH – LINKPIZ.COM