Staying temporarily in a shabby tent, Ksor Bieng and her husband have to carry their disabled child to herd cows every day. How much money, the whole family spends to cure the child infected with Agent Orange.
At noon in the summer of April, we reached out to the family of Kpuih Mong (30 years old) and Ksor Bieng (32 years old, resident of Tnung village, H'Cotton commune, Chu Se district, Gia Lai province). Your family lives in a shabby hut, lying bare on an empty lot. Seeing a stranger, Bieng, in a blue, austere appearance, opened the door made of torn corrugated iron, inviting guests inside.
Code support: 4475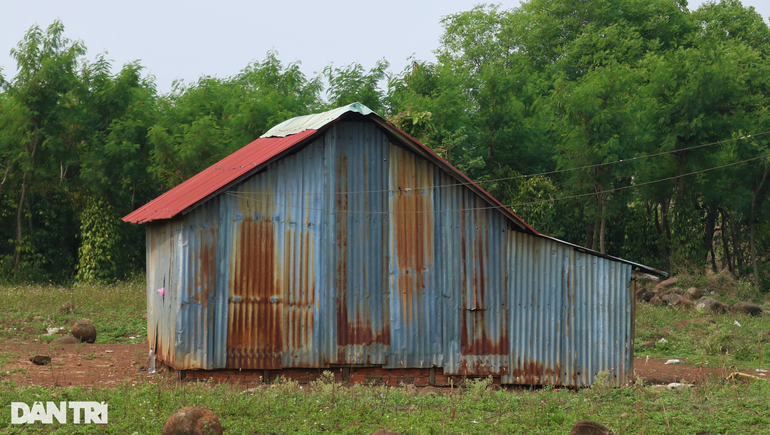 Bieng said her family has three children. The first child infected with Agent Orange was 13-year-old Ksor Dinh. Ding is disabled, limbs shrink, unable to get up, wants to move to crawl, very pitiful. Because of the difficult circumstances, Bieng sent a second child to the church to raise her. Her youngest child is only 2 years old and is not sick at all.
"Ding for 13 years has never called a question of his parents, has not been able to eat himself. Just look at him is a pain in the intestines, fortunately the two of them are not sick," Bieng sighed.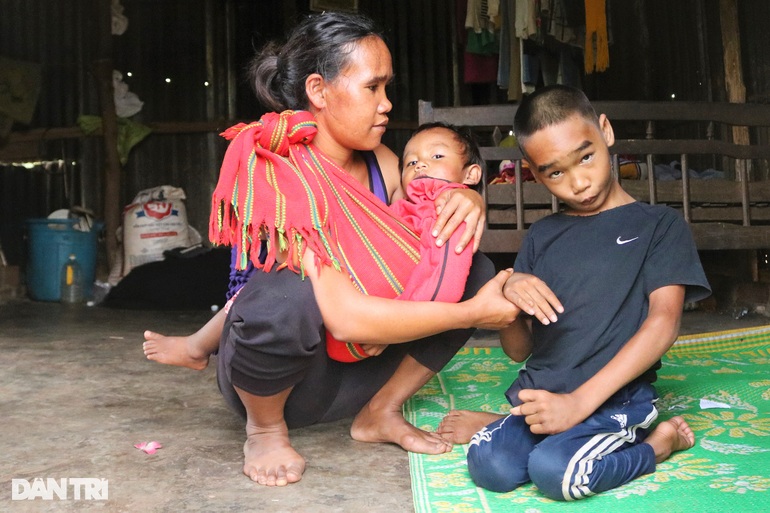 For many years, your family has been unable to escape poverty because of the difficult circumstances. How to get out of poverty, when your inheritance only has a barren land given by the villagers and the torn house no one dares to live in.
Bieng confided that at the age of 19, she met Kpuih Mon while she was herding cows. I love you for your hard work and hard work. Since the family's situation is difficult, your wedding day is also not enough money for a full wedding. You just cook dinner and ask permission from your families to stay together.
After a year of marriage, you welcomed the good news of having your first child. But then that joy was not complete when the doctor announced that Ding had been poisoned with Agent Orange. At that time, she and her husband had to run to get money to cure their children.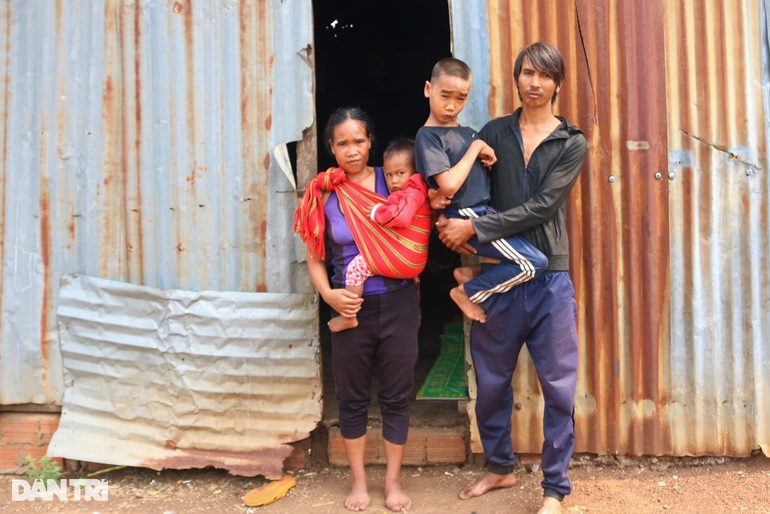 "When I gave birth to my first son, my husband and I were very happy. However, the first son was poisoned by Agent Orange. In order to get money for medical treatment, the family had to run around to borrow money. I myself lost 8 kg at that time, many times fainted due to loss of food, insomnia," Ksor Bieng said.
Her son is 2 years old, the doctor announced that the disease is complicated, needing the amount of 12 million VND to be put into Ho Chi Minh City for treatment. But I don't even have $200,000 in you. At that time, she cried and decided not to give her child treatment. After that, I took him home to take care of himself.
Because of the difficult circumstances, Bieng had to carry her sick son on her back and go to her rented cow herding. "Without money, my husband and I had to carry our children around the fields at the top of H'cotton Pass to herd cows for rent. Each month, the couple receives more than $2 million. That money is not enough to pay the debt and pay for living in the house," Bieng said.
When the cow was hired, the couple had no money to buy food, brought only some rice and some sesame salt. Taking advantage of the cow herding, he went to pick some young noodle leaves to cook soup. Life is miserable but you do not complain, tired and always try every day to earn money to pay off debts, buy medicines for your child.
To earn more income, you also go to dry grass, water, fertilize the noodles (cassava) with a working day of 150,000 – 200,000 VND / day for a business household in the commune. The owner of the garden felt sorry for your situation, so he gave a piece of land more than a pole to grow noodles.
SOURCE: DANTRI
TRAN CANH – LINKPIZ.COM